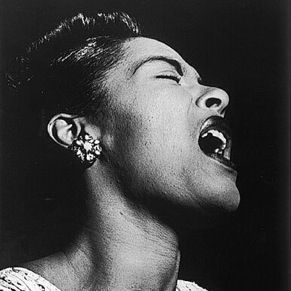 Clockwise: Helen Forrest, Audra McDonald, Barbra Streisand, and Billie Holiday.
Tonight, I thought I would offer you a few beautiful music written by the great composer, Jerome Kern. Whether partnered with Oscar Hammerstein II, or with other lyricists, Kern wrote some amazing songs that found their way into the Great American Songbook, and being performed by some of the great in the Jazz industry, from the great instrumentalists to some of the best voices recording. He was responsible for the music from great shows like the 'Ziegfeld Follies' of 1915, 1916, and 1917, 'Show Boat', 'Roberta', 'Swing Time', and 'Lady Be Good'. I was first introduced to the song by Barbra Streisand, from her 1967 album, 'Simply Streisand'. I was enchanted by it, for is has such a beautiful melody. But here I bring you the 1939 recording of "All The Things You Are", by Artie Shaw & his Orchestra, with featured vocals by Helen Forrest. The song was written for the 1939 musical 'Very Warm For May'. This version has qualities of Pop and Swing, and is really rather divine. This is Helen Forrest with Artie Shaw & his Orchestra singing "All The Things You Are".
I think it could be easily argued that the 1927 musical 'Show Boat' is the most well-known score Kern wrote. So many of the songs made it into Pop culture, performed by Big Bands, Pop singers, Jazz artists, and Opera singers. With music by Kern and lyrics by Oscar Hammerstein II, and songs like "Old Man River", "Make Believe", "Can't Help Lovin' Dat Man", and the next song, it is easy to see why. Next up, I will go with Audra McDonald singing the beautiful "Bill". It is easy to see why she is the winner of 5 Tony Awards, or should I say hear why. Her voice is amazing, and when she takes on the song from 'Showboat', with lyrics by Oscar Hammerstein II. This is stunning.
Sometimes it seems impossible for me to not include Billie Holiday in my Saturday night posts. As this night features classic songs and performances, she always qualifies. And once again, I couldn't resist including her in this tribute to Jerome Kern with a recording of her singing "The Way You Look Tonight". The song was originally featured in the 1936 RKO Radio Pictures musical, 'Swing Time'. The lyrics were written by Dorothy Fields, and originally sung by Fred Astaire to costar Ginger Rogers. As expected, Lady Day delivers the goods, and more in this 1936 recording with Teddy Wilson & his Orchestra. This is "The Way You Look Tonight".
Well, I have decided to come full circle, and return to the source. I was first introduced to many classic songs with my preoccupation with the talented Barbra Streisand. As a young teeen, I was buying up her early releases, including 'My Name Is Barbra', the soundtrack to her first television special from 1965, 'My Name is Barbra'. "Make Believe", from the previously mentioned musical 'Showboat', is a gorgeous song of love and longing, and beautifully delivered by the young Streisand. This is a clip from the special, and also includes her singing the song "I'm Late".
Hope your weekend is making you sing!