I will readily admit I didn't jump on the Steve Grand bandwagon when his first video seemed to take of the internet, where sites, both gay and straight, were crowning him the first gay Country star, which made me roll my eyes a bit. You see, I've been covering music, and LGBT music in particular, for more than three years here, and there have been some very talented artists playing Country music, so that made me sit back. Also, when I listened to "All-American Boy", it didn't sound all that Country to me. It was a great Pop song, one I liked and purchased, but it wasn't Country to me. For me, it had more of the earmarks of great songs from amazing Midwest Pop/Rockers like John Mellencamp. Sure, there are elements of Country to be heard in all American Rock, but still... So I was waiting to see what he would do for a follow up, and that has finally come to pass. And guess what? Not only do I like the new song, I think I might like it even more than the first. But before I get ahead of myself, I want to come back to the start, and take a look at "All-American Boy", the song and music video that sent the blogosphere into a tizzy, where blogs normally dedicated to political pursuits were suddenly featuring a music video.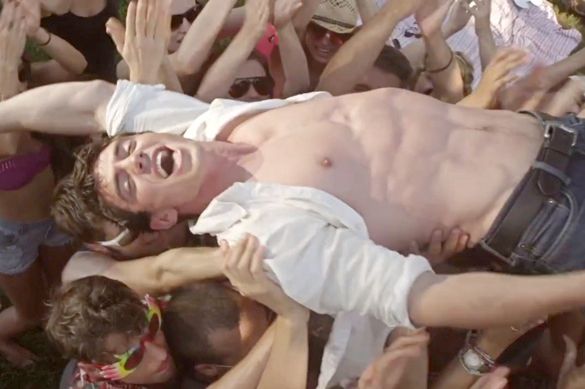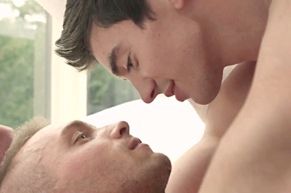 In early summer, Grand released the music video for "All-American Boy", and the song and video instantly became the talk of the internet. The minute I heard this song, it gave me hints of Hair Band Power Ballad, with an anthemic quality, almost bordering on the bombastic. I can hear Mellencamp, or Brett Michaels singing it in a stadium filled with screaming fans. I really like the song, which was also written by Grand, and was pleased to add it to my music collection. Here is the music video for "All-American Boy".
As I mentioned earlier, I heard, enjoyed, and purchased the first single, but was still hesitant to feature it on the blog. I wanted to hear more, so I could get a better feeling of the music made by the handsome singer/songwriter. With the release of the music video for "Stay", I was able to hone in a bit more, and on closer inspection, I like him even more. Once again, I am getting the Midwest Rocker vibe, not as bold as the first, too intimate to be bombastic. But that is not to say the song doesn't soar, for the infectious chorus brings everyone along for a spectacular journey. Check it our for yourself in the latest from Steve Grand, "Stay".
With the two songs, Steve Grand is showing me he has the talent to be around for a while. And since I hear he is working on a full album, I really can't wait to hear what he brings to the table, for he has set the bar high with the singles. His songs are well written and produced, and he has been obviously working hard on more than just his impressive abs. And like so many strong artists, he has left me longing for more.