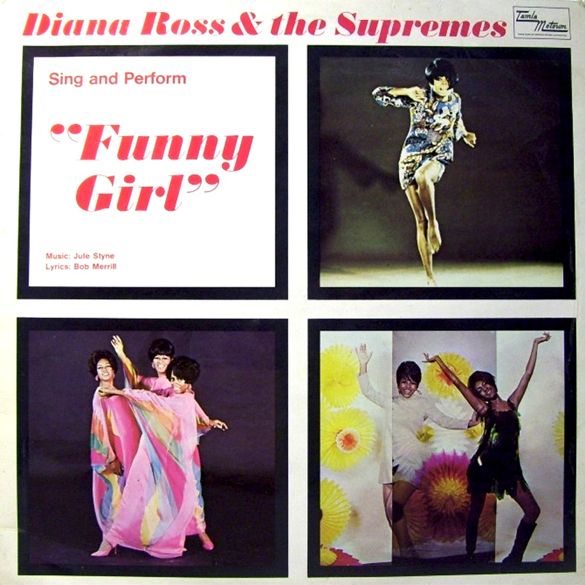 In 1968, of on the great acts of Motown released four albums, the second being 'Diana Ross & the Supremes Sing and Perform 'Funny Girl'. For whatever reason, this was not their first Broadway-based cover album, having already done an album of Rodgers and Hart music the year before. the group, which at that point was Diana Ross, Mary Wilson, and Cindy Birdsong, sung some of the best songs of from the Broadway hit. Here is a clip of the ladies on the Ed Sullivan Show, with them singing a medley of songs found on the album.
The score for 'Funny Girl' was written by Jule Styne, with lyrics by Bob Merrill. It starred, of course, Barbra Streisand, both on Broadway, and in the film. While much of the soundtrack in both was the same, there were songs that were left out, replaced by songs sung my Fanny Brice herself. One of those songs left on the Broadway stage was "Coronet Man", a song that help make Fanny a name early in her career. In the film, the song was replaced by "I'd Rather Be Blue Over You (That Be Happy With Somebody Else)", written by Fred Fisher and Billy Rose. Interestingly enough, Rose was the husband Brice married after Nick Arnstein, the 'love' interest in 'Funny Girl'. This is the Supremes singing the sexy and bluesy "Coronet Man"
It is funny how things change. In 1967, Motown's Berry Gordy let go Florence Ballard, and replaced her with Cindy Birdsong. Rumor had it Ballard was struggling with her demons then, and Gordy was not happy with her gaining weight and inconsistent behavior. It is thought this was the basis for the future Broadway musical, 'Dreamgirls'. Once she was gone, Gordy also changed the group name to Diana Ross & the Supremes, clearly putting Miss Ross out in front. In 1970, Ross left the group to begin her solo career. Ballard was signed to a record label after her time with the Supremems, but it went nowhere. She struggled with additions, but in 1975, seemed to be pulling things together. In February of 1976, Ballard died following a cardiac arrest, which brought on a coronary thrombosis. She was 32 years old. Meanwhile, Ross was seeing great success, with 'Lady Sings the Blues" in 1972, and she was working on 'Mahogany' at the time of Ballard's death. And she had music hits with "Reach Out and Touch (Somebody's Hand)" and "Ain't No Mountain High Enough," as well as "Love Hangover", so things were going well for the star. The Supremes struggled to remain pertinent after Ross' departure, and by 1977, the group called it a day.