The Skivvies: Nick Cearley, left, and Lauren Molina, right.
I must admit I only recently discovered a new band, "The Skivvies", The band is made up by Lauren Molina and Nick Cearley, a duo of far-ranging talents based in New York City. Both have experience on Broadway, but show their voices are ready for more than a bit of Jerry Herman. Molina has graced the Broadway stage in 'Rock of Ages', Sondheim's 'Sweeney Todd' and 'Marry Me A Little', and Mary Zimmerman's 'Candide', coproduced by the Goodman Theater and The Shakespeare Theater Company. Cearley was part of the first national tour company of the Broadway musical 'All Shook Up', and gained much attention with his one-man show, '...And Then I Wrote a Song About It'. The two joined forces in the group, which claimed it's name from their musical and wardrobe choices - stripped back and exposed. Lauren and Nick don their knickers and play the cello and ukelele, among other instruments, to lend new flavors to some Pop favorites.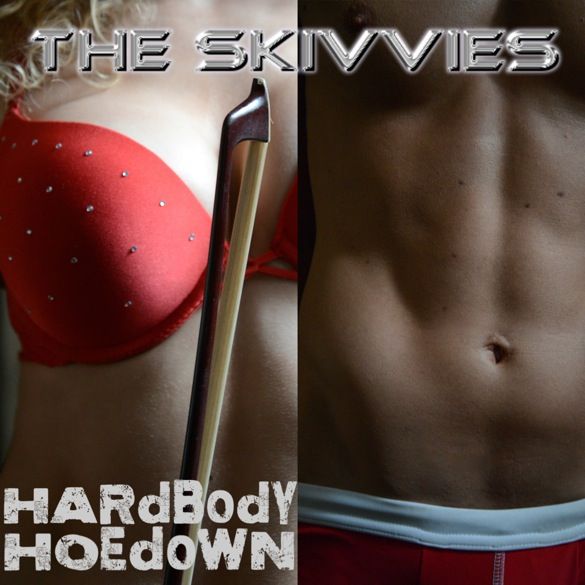 In their first official music video, The Skivvies released "Hardbody Hoedown". The creative duo take some of the most explicit Rap songs we've heard, and mash them together over a bed of Classical and Bluegrass-based music. From moody strains of the cello, to knee-slapping twirls, the musical journey pulls from music of the last 50 years, from Tom Jones' ribald "What's New Pussycat" to Sir Mix-A-Lot's "Baby Got Back" to more current and racy songs, The Skivvies offer it all with a decided tongue-in-cheek. Just a word of warning, the lyrics are explicit, and not appropriate for the young, but most certainly for more mature tastes. Enjoy The Skivvies singing "Hardbody Hoedown", in their own skivvies.
To learn more about The Skivvies, visit their
official website
. You can also 'like' them on
Facebook
, and 'follow' them on
Twitter
. YOu can purchase "Hardbody Hoedown" from
iTunes
,
Amazon
, or
Bandcamp
. If you choose to visit them on Bandcamp, you can check out two other singles that are available only on Bandcamp. There is the delicious take on the first song broadcast on a fledgling MTV, "Video Killed The Radio Star". There is also a stripped-down moody cover of Lana Del Rey's "Diet Mountain Dew". Just beware of the sugar and caffeine high Mountain Dew can bring.