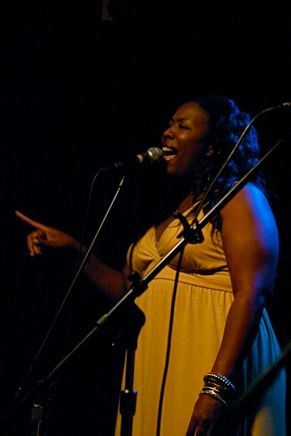 Top: Eric Himan. Bottom: Tylisha Oliver, left, and Tina Phillips, right.
A few weeks ago, I was luck enough to see Eric Himan at the Tin Angel in Philadelphia, PA. Eric was touring in support of his latest album, 'Gracefully', and was accompanied by Tina Phillips and Tylisha Oliver, also known as the Soultré Sisters, adding their vocals to enrich the sound of the great new music by Himan. I was joined at the show by my niece, Mandy, and her fiancée, Mark. Eric played several songs off his latest album, 'Gracefully', as well as some very entertaining cover songs. The show started out with a great song off the album, "Red Hot Tears".
The show was wonderful, filled with great music, great storytelling, and some truly funny moments. Eric was once again behind the piano for "The Only Way", another great song off 'Gracefully'. The second track on the album, the song highlights the soulful qualities of Himan as both a singer and a songwriter. I love the song, and am so glad to share it with you.
While there were a few covers performed, I simply could not resist posting this one for all. I do love me some Dolly Parton - who doesn't? - so when Eric took on "Jolene", I was excited. I had heard him sing it before, but he mentioned he would try to slow it down, giving it a different feel. Well, between Eric and the amazing voices of Tylisha and Tina, this song was fan-freakin-tastic.
Eric also had some great new for the night. It seems He has had a few songs licensed for various reasons, including by the clothing store, Hollister. This very weekend, "Everything To You" was to start playing in the stores! That is so cool, showing more and more people appreciating the great work Eric consistently has made over the last decade or so. So here is Eric playing the fifth track of the album, "Everything To You", in a great live performance.
The show was fantastic, and left the entire audience on their feet, begging for more. It is never a wise decision to pass up a show put on by Eric, so keep your eyes open, and your ears to the ground. You can learn more about Eric Himan with a simple visit his
official website
. Once there, you can order music, as well as checking out his tour schedule. To keep up-to-date on all things Eric, you can also 'follow' him on
Twitter
, or 'like' him on
Facebook
. As for the music, 'Gracefully' is now available on
iTunes
,
Amazon
, and
Bandcamp
.