While much of the world is sitting on their hands as Russian Czar Vladimir Putin has made any show of support of LGBT people or issues illegal in Russia, where the upcoming Winter Olympics is scheduled to be held. Many would rather support the athletes, because competing in a game held every four years is far more important than human rights, right? Even skater Johnny Weir, whose self-involvement is Olympic in proportion to that of even the Kardasian family, appeared on ESPN with Keith Obermann to defend Russia and the games. The fashion-minded skater wore a Soviet-inspired army jacket as he explained how doing anything but support the games would be harmful to both the athletes who train for competition, and the citizens of Russia. Conveniently, the gay skater seemed to forget about the LGBT people having to live with the new law, and the reports of harsh treatment of those Russian citizens. Well, out and proud rocker Scott Free decided it was time to lend his voice to the discussion, so he wrote his new song, "Happy Pride Day Moscow".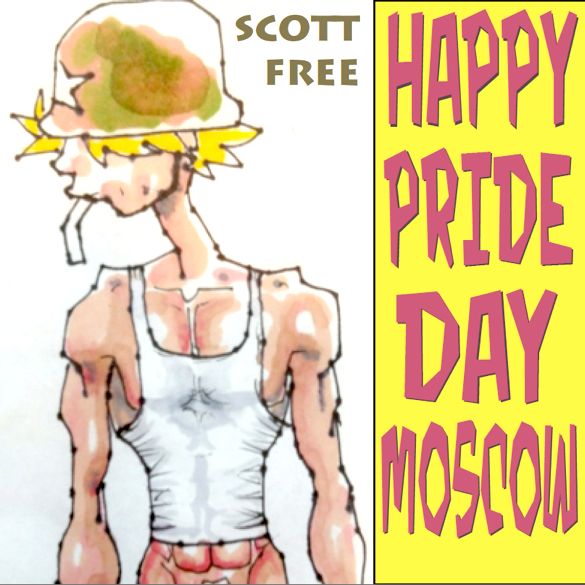 Scott Free has been making Punk-fueled Rock since the 1990s, never afraid to speak his mind on the issues. Whether it was political or just a matter of Pop Culture, Free has never shied from allowing his queer voice to be heard. That continues to be true with, "Happy Pride Day Moscow", the bold new song with Punk and Ska influences. Scott's tongue is planted firmly in his cheek, taking a look at everything from oiled men wrestling to the regal attire of some of the Russian conservative movement. Hey, just give a listen for yourself.
To get "Happy Pride Day Moscow", visit Scott on
Bandcamp
. There you can name your own price, from Free to a donation to support the artist. To learn more about Scott Free, visit his
official website
. You can also 'like' him on
Facebook
, and 'follow' him on
Twitter
.