I thought I would kickoff the weekend with the latest from Colton Ford. But first, I will state the obvious. Colton is a gorgeous man, and I could be quite entertained watching his music videos with the sound down. Now, the bonus is that I don't need to, for I enjoy his music, and will listen to it even without being able to see that handsome face, or that outrageous body. I have been happily doing that since I happened across his 2004 single, a cover of Stevie Wonder's "Signed, Sealed, Delivered" with the fabulous Pepper Mashay. It was so fun, with the driving beat pushing the while the vocals found their own way to top the explosion of sound. I could not resist buying his 2007 release, 'Tug Of War'. The sexy dance-oriented music was fun and energetic, and Ford's voice made it all sound very easy. I loved "The Way That You Love Me" and "That's Me", and many others on that disc. It really felt that Ford was finding his way in the recording studio. I did not hesitate to buy the 2009 release, 'Under The Covers', a collection of cover songs that I liked, but didn't love as much as I hoped. Now, that didn't mean I didn't love his cover of REM's "Losing My Religion", or get crazy with is version of Robin S's "Show Me Love", trust me. So I've been excitedly waiting since, hoping to hear more from the man. The wait is up, as he has released 'The Way That I Am', a new album of new material.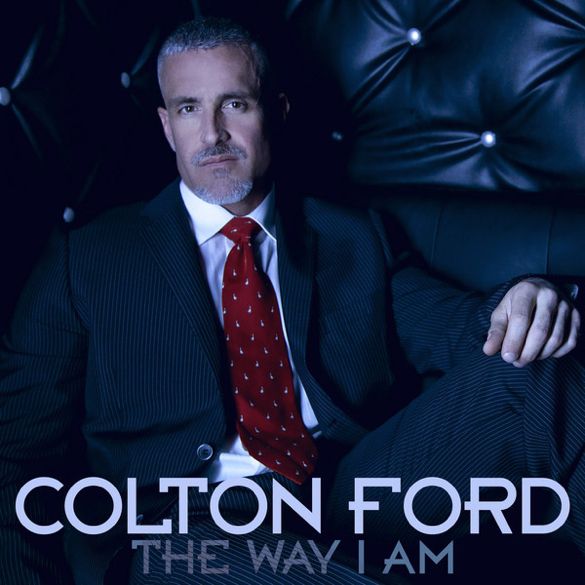 So 'The Way I Am' is an eleven-song collection that starts out with bold vocals from Colton. There is a Pop texture over the Electronica base that immediately held my attention on "First In Love (Shadow of the Night)". Ford is able to show his range, wrapping me in his velvety rich lower tone, and still reach up with a bold falsetto. With the opening bars of "Let Me Live Again", I knew I was in love with this song, and the expansive feel it give me. Check out the music video for "Let Me Live Again". But be advised, you might be moved to growl while watching...
It's true, you might have seen when I posted about this music video a few weeks ago, a growling homage to Tom of Finland. Next up, there is the yummy "Look My Way", giving me some Kelly Clarkson sass I am eating up. I just can't get enough, and give it a couple of listens on repeat. Then we have "Realize", the song with the softest feel so far, but still has a beat that drives everything forward. There is a relaxed feel to the vocals, allowing me some enjoyable respite. The moment "Get to You" kicks in, I get a jolt back to some classic Disco magic, with some stardust from Colton as well as featured artist Ultra Naté. You can here "Get To You" here.
This gives me Studio 54 memories, with a newer, fresher beat, keeping me dancing in my chair. Once "Change (You're Gonna Have To)" starts playing, I am feeling the ElectroPop goodness. The song lives in a delicious spot between Club fun and New Wave charm, taking a piece of my '80s heart. There is a big and bodacious beginning to "Can You Feel It" and it doesn't let up any time soon. There is a nice build with "Just The Way I Am", which starts out introspective and grows to anthemic. And then "The Music Always Gets You Back" starts in with a boom! This has a big club sound, and I feel the foam covering me as the song plays on. But it is time for a change up, when the simple and soulful "All My Love" begins. Here is the sexy music video.
There is such a strong sultry air for the song, I thought the video captured it so well. The final song on the CD is "Alone", the second moody ballad in a row. I like it, but it does lack the sexual charge of "All My Love", and it leaves me feeling a bit flat. Perhaps it could have been trimmed down a bit, as that might have helped the almost sic-and-a-half minutes avoid seem like it was dragging. That said, I really enjoyed "The Way I Am', and this it is Ford's strongest to date. His voice remains strong, but he sounds more sure of himself, and willing to take some chances with his choices. This made me glad I am a fan, and will continue to enjoy his music. Speaking of which, you can find 'The Way I Am' on
iTunes
and
Amazon
. For more about Colton Ford, you can find him on the social networks. You can 'like' him on
Facebook
, and 'follow' him on
Twitter
.