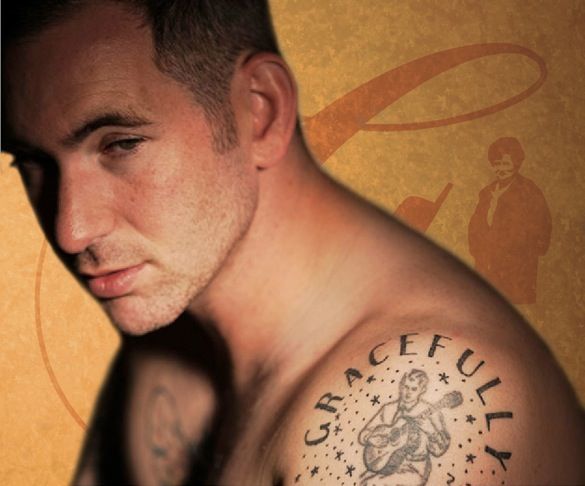 I was excited when I learned singer/songwriter Eric Himan was planning on his ninth studio album. He did some crowdfunding on PledgeMusic, and I eagerly jumped on board. You see, I am a big time fan. I had his eight studio album, the two live albums, the EP, and a few singles, too. I see him whenever he is playing in the area, and bring family members with me when we go. I have more pictures than I care to admit, and several videos from the live shows. Some of those pictures are framed and on the wall. Hopefully, if by chance he would read this, Eric will find it endearing and not look to contact the police... The crowdfunding took place last fall, and Eric met the goal, and got to work. "Pledgers" received regular updates, and once all the work was done, it was time to release the album. I couldn't wait to hear 'Gracefully'!
The album was named in tribute of Eric's late Grandmother, Grace. She was an important force in his life while growing up, In fact, in the liner notes for the album, Eric says "most of all, to the late Grace Himan who raised me to appreciate art AND the art of life". We can all be grateful for that, as Eric continues to make music that not only sounds great, but often speaks directly to my heart. That would include the first cut on the album, also the first single, "Red Hot Tears". The song is sexy and soulful, two things I love about Eric's music. Give a listen for yourself. This is a video with great pictures featuring the song "Red Hot Tears".
Man, I love that song. Next up we have "The Only Way", which is a classic Eric Himan song, with a strong melody, and the addition of horns really brings home the inherent soulful nature of Eric's music. It is followed by "Call Me Up", and it reminds me how much I love Eric's lyrics, and how he stylistically communicates. The song is pure Pop, but so much more. I love when he sings "It's these times when you can't catch your breath, that any sign of relief is your safest bet." This ode to friendship is just so right on. From the first bluesy bars of "How Can You Sleep?", I knew he had me. He talks about that time right after a breakup when you just feel so alone as you wallow in the hurt. His voices carries so much emotional weight, I just feel a real connection. From the start, "Everything To You" just feels like all kinds of Pop goodness. There is a joy and a lightness that is so sweet. Give a listen to "Everything To You" for yourself.
That little slice of joy is followed by a finger wag, perhaps the nicest "screw you" I've heard in a while. With a jaunty reggae beat, he delivers the punch with a smile and a light slap on "Hard To Please". Next we come to an incredible song I've been lucky enough to hear him sing live. "Waiting For Thunder (Malala)" tells the courageous story of Malala Yousafzai, the 14-year-old girl unwilling to give up her education just because the Taliban said so. Her bravery inspired many around the world, including one talented singer/songwriter from Tulsa, Oklahoma. Check out "Waiting For The Thunder (Malala)".
If that doesn't inspire you, and give you the occasional goose bump, I am not sure what will. That is followed by "Symmetry", a song we got to hear while 'Gracefully' was being made, a perk of making a pledge on the project. But now we get the finished version, and I am reminded what a great storyteller Eric is. He communicates so well, and I feel we've all been in the situation, that time in a relationship when you are trying to figure out if you have enough in common to make it work. Opening with a simple piano and Eric's voice, "Call Yourself A Friend" cuts right to the chase, standing up and and announcing he "is not your fool." Again, been there, done that. Then we get to the bluesy "All I Need", a wonderful love song that took me by surprise, and made me love it even more. It puts me in mind of a little Janis Joplin, and a bit of Aretha Franklin, but mostly, a bunch of Eric Himan. And finally, there is "Gracefully", a stunning song written for his late grandmother, Grace Himan. It is beautiful, heartfelt, and touched my heart.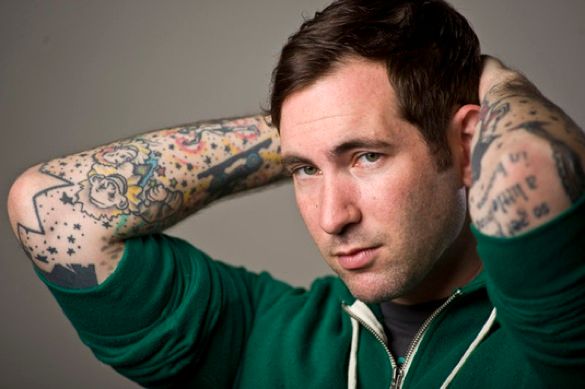 'Gracefully' could very well be the my favorite album by Himan to date. The songs are so strong, and so good, as I have come to expect from Eric. There is, however, an added level of production on the album that scared me at first, but proved to only enhance the strength of the album, as well as Himan himself. The added depth to the music allows Eric more freedom as a singer, and it has allowed him to soar. 'Gracefully' is now available on
iTunes
,
Amazon
, and
Bandcamp
. For more about Eric Himan, visit his
official website
, where you can listen to his music as well as learn the latest news, including his touring schedule. You can also 'follow' him on
Twitter
, or 'like' him on
Facebook
. I bet Eric would love for you to say 'hello'!