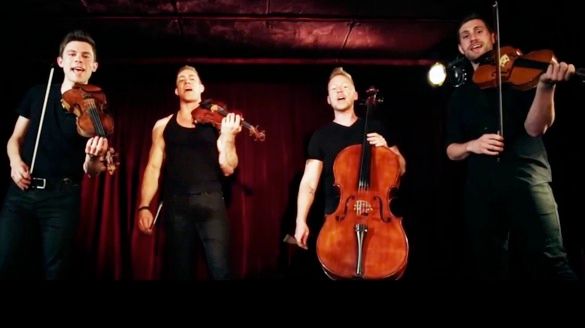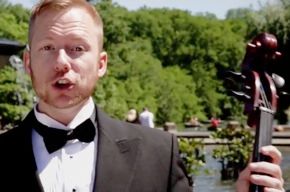 Individual pictures, clockwise:Edmund Bagnell, Chris Marchant, Trevor Wadleigh, and Daniel Shelvin.
Well-Strung is a classically-trained string quartet making music and redefining just what a 'boy band' sounds like. Edmund Bagnell, first violinist, Chris Marchant, 2nd violinist, Daniel Shelvin, cellist, and Trevor Wadleigh, violaist, came together to make music that spans the world of Classical and Pop. And they also look damn good in tight black t-shirts and jeans. And they all just happen to be gay men, playing music they love. In their latest music video, released yesterday, Well-Strung put together an unlikely mash-up of Mozart and Kelly Clarkson with their usual style and flair. For this video, they feature Wolfgang Amadeus Mozart's "Eine Kleine Nachtmusik (First Movement)" with Clarkson's "Since U Been Gone".
While this particular mash-up doesn't appear on their most recent release, 'The Singing String Quartet', the Mozart piece does. The album is quite delightful, combining great songs from both the worlds of Pop and Classical music. You can purchase the album on
iTunes
,
CD Baby
, and
Amazon
. They have just released this as a single, and you can find it on
iTunes
and
CD Baby
. To learn more about Well-Strung, visit their
official website
. You can also "follow" them on
Twitter
, or "like" them on
Facebook
.