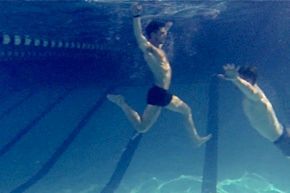 Eli Lieb has released a new single and music video, and I love both so much, it is hard to figure out where to start. The song, "Young Love", is an original written by Lieb, and I am a huge fan of his music. The song is a bold Pop/Rock song, kind of reminiscent of the music of Bryan Adams, with a striking raw edge, and driven by a strong guitar. The song produced by Jordan Palmer, co-produced by Eli. If this is a sign of music to come, I am damn near giddy about it. As the title suggests, the song takes a look at the fearless and joyful side of young love, celebrating the softer and more explosive sides of it. The music video was directed by Geoff Boothby, and produced by Shark Pig. It is handsome, moody, dark and sparkling, capturing the subject matter so very well. It also gives us the opportunity to see Eli's first on-screen kiss, a nice one with a handsome young actor. Oh, hell, let me shut up and just let you watch the music video for "Young Love".
This just makes me so excited for the music coming from this talented young man. I truly enjoyed his first album, as well as the YouTube covers he has put out, but this really ups the ante. If a new album is coming, let me pre-order it now, cause I can't wait. But until then, "Young Love" is available for purchase on
iTunes
and in the store on Eli's
official website
. If you need even more temptation, check out the single cover below. For more about Eli, visit his
official website
. You can also 'follow' him on
Twitter
, or 'like' him on
Facebook
.