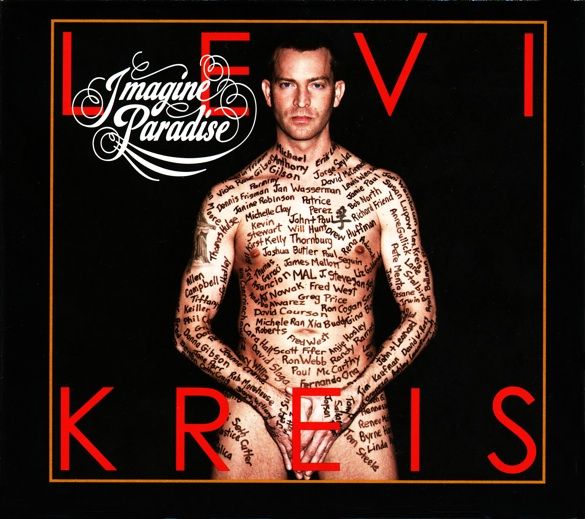 It seems like it has been quite a while since Levi Kreis set out to make a new album. First he had to do his homework, and which was everything from beginning to write new songs to come up with budgets and schedules or the project. He then set up a crowd-funding project to get fans and friends involved. With his Kickstarter page up, he raised more than his desired goal, leaving many, including myself, happy and excited about the prospect of new music. And if you look closely at the album cover above, Levi has brought most of the donors with him on the cover shoot, as he had the names written on his remarkably fit naked body, highlighting the people who helped make the album happen. And when there is a naked picture of Levi on the cover, it becomes a bit more interesting to 'Imagine Paradise', doesn't it? And when there are two naked pictures - check out the back cover below - picking up 'Imagine Paradise' and playing it is quite the inviting prospect!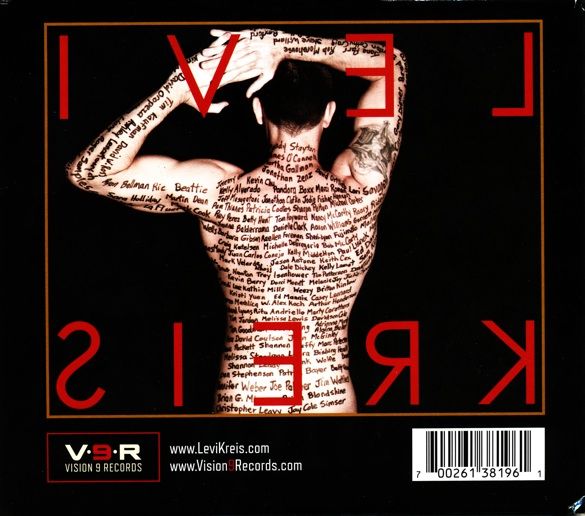 The first cut starts off this journey just a little steamy, with Levi cooing and whispering in my ear on "Timeless (We Are)". There is something so very honest about this song, and it s one that should be heard. Check out this live acoustic performance from Levi's appearance on 'Feast of Fun', Fausto Fernós' and Marc Felion's wonderful podcast.
On the second track, Levi turns up the energy, and drives it home with a strong beat. "Any Way You Wanna" takes on love, and we know love wins, don't we? It certainly does when Levi has anything to do with it. Next up, "Taking Back My Boogie" comes busting through giving me The Sound of Philadelphia realness, some of that Gamble & Huff magic. There is nothing but love and joy in this one, and I just can't get enough. "All Over Again" slows it up, but nothing can hold back Levi's voice. There is a connection between Levi and the soulfulness inherent to the song. And once you have fallen, what is the next step? Of course, it is finding that "Deeper Love" we all want so bad. To get there, Levi amps up the energy, but gives us a bit of Nile Rodgers, melding the soul and dance with a smooth and loving caress. That pretty much only leaves room for a "Love Revolution", a dance explosion featuring QBoy. This song is just so shimmery and juicy, it is hard to resist. And when QBoy breaks in, offering a delicious slice of his UK Homo-Hop, I know I am in love. That leads us to the sexy beast that is "4 Letter Word". Levi's vocals are just so on for this, I am at a loss for words. But I want him to sing this so me several times. Finally, we get to the first official single off the album. This is the official music video for "So Much Better", so please enjoy it.
I love "So Much Better", so filled with joy and hope, all with a kick ass track underneath it. That is followed up by "Never Will I", which gives me a shot of Janet Jackson, a softness with a strong sense of love. There is just a great warmth in the song, and Levi's voice is like honey as it navigates the song. There is a simple piano introduction to "It Ain't Over", quickly joined by Levi improvising as the song starts up. He is joined in this duet by the amazing Sam Harris, who I remember so clearly from his appearance on 'Star Search', when I instantly was blown away by his voice. Like every great duet, when they begin to sing, they bring out the best in one another. Like two divas, they soar over the music and elevate it to something truly special. That is followed by "What Love Is", a ballad that indulges in a bit of R&B, and a whole lot of Soul. This could very well be my favorite vocal on this album, so balanced, and coming from his heart. Finally, we get to the last song on the album, "Let It Go". It starts off with a sweet Pop sound, but at one minute in, it hits me, there is something more to this song. This is a song that soars in a chorus, bring the listener into a place of forgiveness. The song crosses the borders between bombastic Pop and enlightened Gospel, ferried across by Levi's truly inspired vocals. So, are you not quite willing to take my word for it? Well, here is a sample of the album , featuring bits of "So Much Better", "Love Revolution", "Timeless (We Are)", "All Over Again", "Deeper Love", and "Any Way You Wanna". Please enjoy a little taste of 'Imagine Paradise'.
'Imagine Paradise' is a perfect album for the summer, weaving together a tapestry of Pop, Soul, R&B, and Dance to make it a great listen by the pool or on the beach, as well as perfect company in the car. It has a wonderful feel of Classic music, yet still maintains a fresh and bold sound I can't wait to hear again and again. You can purchase 'Imagine Paradise' from
iTunes
,
Amazon
, and
CD Baby
. To learn more about Levi, visit his
official website
. You can also 'follow' him on
Twitter
, and 'like' him on
Facebook
. Give him a big "hello", he'd be happy to hear from you. And you can visit 'Feast of Fun' online at the
official website
.