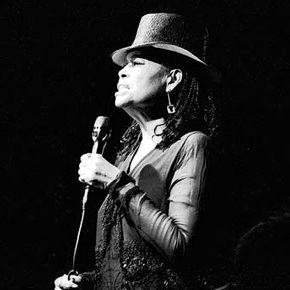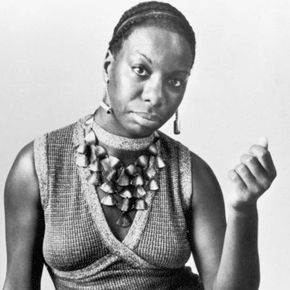 Clockwise: Abbey Lincoln, Shirley Horn, Lena Horne, and Nina Simone.
While thinking about tonight, I found an album simple called 'The Great Ladies of Jazz' and felt inspired when I read the song list, I felt pretty damned inspired. While Ella Fitzgerald, Billie Holiday, Dinah Washington and Sarah Vaughan had two songs each, I decided to go with the incredibly talented ladies who had one track on the compilation. First up, we have a woman I knew about, but didn't really know about the scope of her career. As a songwriter and a vocalist, she started working in the 1950s, singing Jazz and Pop, including an appearance in the 1956 film, 'The Girl Can't Help It', starring Jayne Mansfield. She wrote songs from her heart, and they often incorporated the civil rights issues of the day. In 1981, she released the album 'You Gotta Pay the Band', on which she wroked with the great Stan Getz. She recorded "Brother, Can You Spare A Dime", a song written in 1930 by lyricist E. Y. "Yip" Harburg and composer Jay Gorney, and was one of the best-known American songs of the Great Depression. It spoke to so many, talking about the core of the country, the workers who built it up. I hope you enjoy Abbey Lincoln as she sings "Brother, Can You Spare A Dime".
In an interesting side note, in the 1970s, The New York Times asked Harburg to update the lyrics of the song, trying to get a more current feel for a new generation. The man who wrote great lyrics for songs like "Over The Rainbow", "It's Only A Paper Moon", "April In Paris", "How Are Things In Glocca Morra?", "Down With Love", and "Lydia The Tattooed Lady", came up with the following.
Once we had a Roosevelt
Praise the Lord!
Life had meaning and hope.
Now we're stuck with Nixon, Agnew, Ford,
Brother, can you spare a rope?
Next up, we have a song that has some pretty impressive writers as well. "I Got It Bad (And That Ain't Good)" is a a pop and jazz standard with music by Duke Ellington and lyrics by Paul Francis Webster published in 1941. The song was first recorded by Duke Ellington and His Orchestra, with Ivie Anderson as the featured vocalist. Like many of the songs written by Ellington, it became an instant classic, and everyone was clamoring to sing it. Almost a half decade later it was still the case, as the wonderful Shirley Horn recorded it for her 1987 album, 'I Thought About You'. Horn was first 'discovered' by the great Miles Davis in 1960. His praise of her work as a singer and pianist brought about new opportunities, and it wasn't long before she was signed to a label. I do hope you love this version of "I Got It Bad (And That Ain't Good)" as sung by the wonderful Shirley Horn.
It is hard to figure out what hasn't already been said about the enormous talent of the glorious Nina Simone. She wanted to become a classical pianist, but in the United States in the 1950s, she was turned down admission into the schools. She decided to work had on her own, and soon was playing clubs to earn money, and was expected to sing as well as play. And it wasn't long before people started to take notice. She released her first album in 1958, 'Little Girl Blue'. One of the songs on the album was her own take on "I Loves You Porgy", from the 1935 opera written by George and Ira Gershwin, 'Porgy and Bess'. She tried to infuse as much of her Classical leaning as she could, and created a wonderful recording. Written as a duet, Simone adapted it as a solo. By all means, push play and enjoy Nina Simone as she sings "I Loves You Porgy"
Finally, there is the always delicious Miss Lena Horne, a talented and beautiful woman. Lena started her career in the chorus at the world famous Cotton Club in Harlen. Wanting more, she moved out to California, and was soon being cast in several movies, including a few leading roles. She was great in 'Cabin In The Sky' and in 'Stormy Weather', her most memorable roles. But in the late 1950s, the political climate grew tougher with McCarthyism and the House Un-American Activities Committee leading the way, Lena and several other artists found themselves unable to work in Hollywood. She devoted her time and talents to music, and was making lots of great albums and playing in clubs around the world. But before all that, she hit songs like "Stormy Weather", and had a wonderful 1948 recording with Luther Henderson's Orchestra on a wonderful song composed by Fred Rose with with lyrics by Walter Hirsch. It was written in 1926, and is still a wonderful song. It is my pleasure to offer you a clip of Lena Horne singing "'Deed I Do".
I do hope you enjoyed tonight's music. And hope you have a great weekend!