In 1967, there was a delightful movie musical with three ladies leading the way, all of whom were pretty damn impressive in their own right. Julie Andrews, Mary Tyler Moore, and Carol Channing stole the movie with their bubbling personalities, so effervescent, you might think you are watching the musical through a glass of champagne. The soundtrack features new tunes by Jimmy Van Heusen and Sammy Cahn, mixed in between classic songs from the 1910s and 1920s.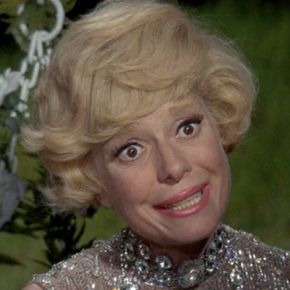 In the story, Carol Channing plays Muzzy, the recently widowed step-mother of Dorothy Brown, played by Mary Tyler Moore. She is the epitome of the flapper, loving parties, dancing, and Jazz music. She really loves life, and doesn't mind sharing with others. For me, my favorite number by Channing in the movie is "Jazz Baby", a song written by M.K. Jerome and Blanche Merrill in 1919. The song was originally recorded on March 14, 1919 by Lieut. Jim Europe's 369th U.S. Infantry ("Hell Fighters") Band, with vocals by C. Creighton Thompson. But I am not sure there is a version that can top Channing's, whose big and bold personae is perfect for the song. This is vintage Channing, so please enjoy Miss Channing singing "Jazz Baby".

Julie Andrews plays the role of Millie Dillmount, who fancies herself a thoroughly modern you woman, for she left behind life in the Midwest to move to New York City to make her name. She plans on marrying well, seeking a wealthy man, with no intention of falling in love. Needless to say, along the way, Millie does fall in love, and and he falls for her. And just as expected, hilarity ensues. In the midst of all that, there are songs to be sung. When Millie first meets Trevor Graydon, played by James Fox, she is charmed by him, and while trying to interview to be his secretary. Dhe is distracted by his "Baby Face", and sings the song written by Harry Akst and Benny Davis in 1926. It was a huge hit for Jan Garber. Al Jolson and The Revelers also had success with the song. But here, we get to hear Julie Andrews sing "Baby Face".
These songs are delightful, and the movie is so very charming. While these ladies are fantastic, Beatrice Lille almost steals the show. She plays Mrs. Meers, the kindly widow who runs the Hotel that many of the young girls stay. When some of the girls go missing, more fun follows. The fashions worn by the ladies are great fun, and earned Jean Louis an Academy Ward nomination. Channing also earned a nomination as Best Supporting Actress. You can find both these songs on the 'Thoroughly Modern Millie' Soundtrack album. You can find it on
iTunes
and
Amazon
. You can also find the DVD on
Amazon
.