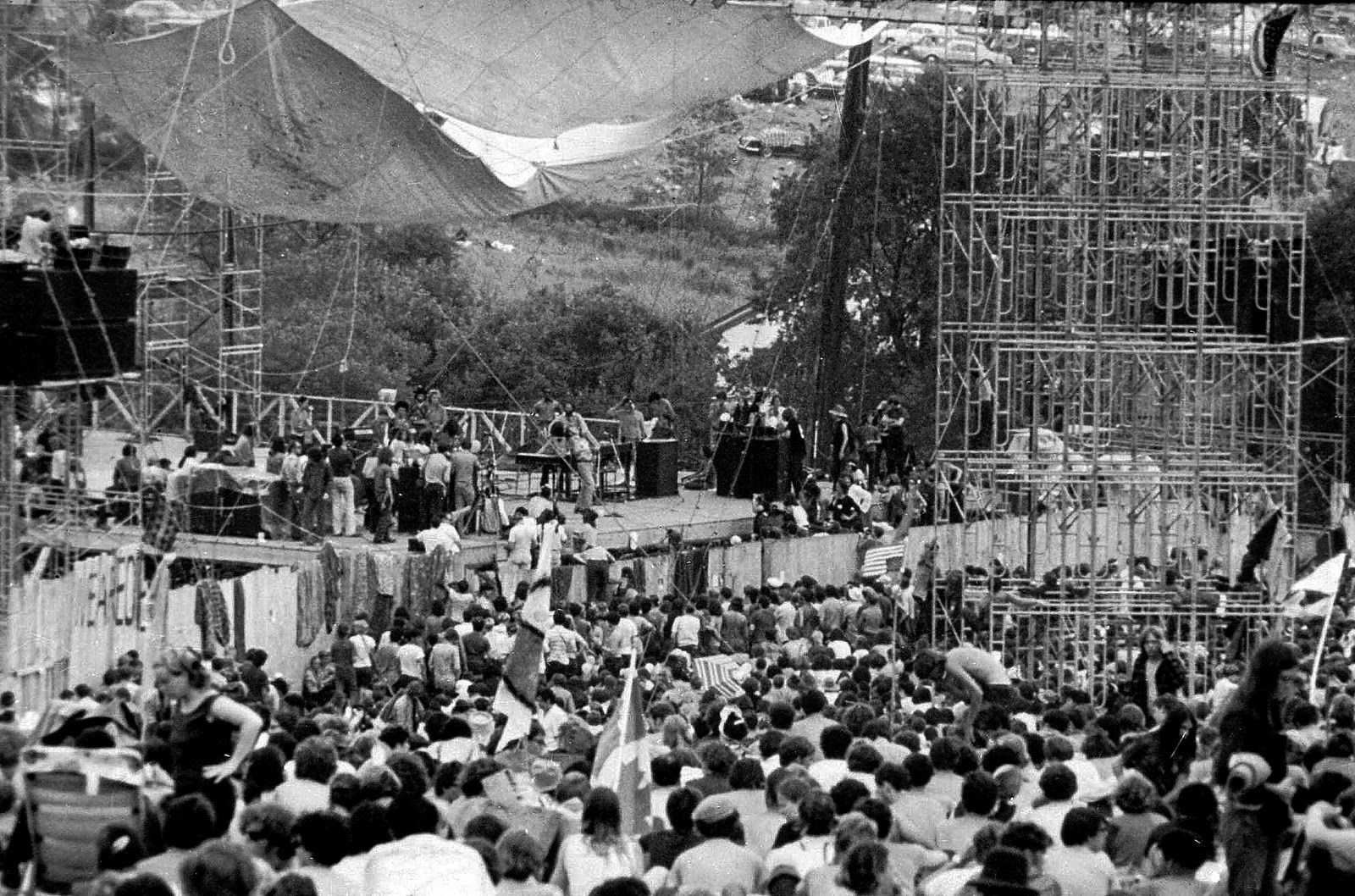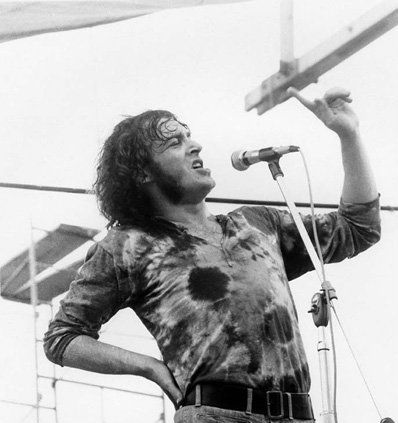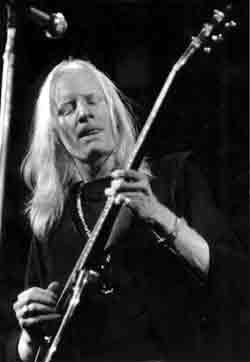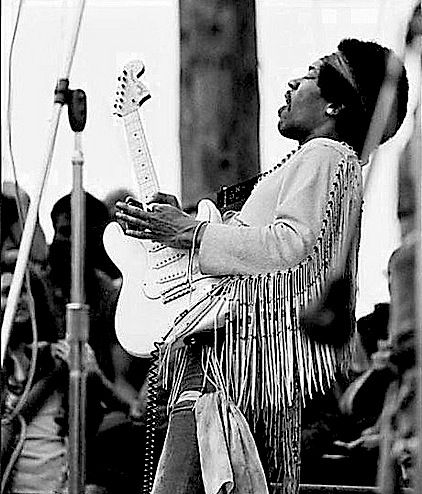 Top: The Woodstock Crowd. Clockwise: Joe Cocker; Johnny Winter; Jimi Hendrix; and The Paul Butterfield Blues Band.
We have reached the final day of the Woodstock Music & Art Fair, Sunday, August 18, 1969. I've gone over the first two days,
here
and
here
. The crowds were still huge and supportive for the entire three-day weekend, despite the occasional rain. Since Jefferson Airport didn't finish their set until almost 10AM, the Sunday schedule didn't start until 2PM, giving people a chance to catch a few hours of sleep. I would not question that at least some of the audience were wakened by the first strains of Joe Cocker and the Grease Band playing "Something's Coming On" off Cocker's first album,
With A Little Help From My Friends
. Cocker was known as a Englishman who delivered some of the strongest soul music of the time. The song was written by Cocker and Chris Stainton, who played keyboard in the Grease Band. The band went on to record on their own, back Cocker and also Marianne Faithfull. But here is Cocker singing the R&B classic, "Let's Get Stoned".
The song, written by Nickolas Ashford, Valerie Simpson and Josephine Armstead, was first recorded by the Coasters in 1965. Then there was the first and only repeat of the festival. Country Joe and the Fish. Well, Country Joe McDonald was a repeat, this time with his former band, the Fish. Then came the English band known for their strong Blue Rock, Ten Years After. The band got their name after it formed in 1966, ten years after Elvis Presley had his breakout in 1956. Then came another of my favorites at the festival, The Band. So Robbie Robertson, Levon Helm, Rick Danko, Garth Hudson, and Richie Manuel took to the stage at 10PM Sunday night, paying some of their great songs. The Band were followed by by the great blues guitarist Johnny Winter, who was joined for at least part of the set by his brother, Edgar Winter. Johnny was known for his amazing guitar work, playing the blues with greats like Muddy Waters. He also loved to incorporate his influences in his music, like Native American rhythms. Here he is playing the third song in his set, which began at midnight Sunday night. "Mean Town Blues" is a song he had written himself.
While Winter had set the bar high with his set, with great music including the jam featured above. He was followed by the brilliant group, Crosby, Stills, Nash & Young. David Crosby, Stephen Stills, Graham Nash and Neil Young played a brilliant set of some of their best music, with their mind-blowing harmonies and compelling music. Apparently, 6AM meant it was time for more Blues, and the Paul Butterfield Blues Band took to the stage. Butterfield love the blues, and after hooking up with fellow Blues lover Elvin Bishop, was ofter hanging with Blues legends Muddy Waters, Howlin' Wolf, Little Walter and Otis Rush. And while he often took on lead vocals, his fantastic harmonica playing is where he excelled. Butterfield also formed the Paul Butterfield Blues Band. At Woodstock, he performed Little Walter's song, "Everything's Gonna Be Alright".
At 7:30AM Monday morning, Sha Na Na. They were a group known for their retro look and sound, playing 1950s Doo-Wop and Rock And Roll. Once they were done, it was time for the final act of the festival. Those honors went to the great Jimi Hendrix, playing with the Band of Gypsys, although introduced at the Jimi Hendrix Experience. From 9AM to just past 11AM, they rocked, rolled, and jammed like there was no tomorrow. He played some of his greatest music, and gave performances that will go down in history, His classic psychedelic version of the "Star Spangled Banner" is legendary. He also played music he was known and will be known for forever, like his great song, "Purple Haze".
And so, at 11:10AM on Monday morning, the Woodstock Music Festival came to a close. Sadly, just thirteen months later, Hendrix was found dead in London, the victim of an apparent overdose. Controversy swirled around his death, with lies being told about what went on, and some people suggesting he might have been murdered. But in August of 1969, he took part in an event that will keep him memory forever alive and vibrant. Woodstock is a music festival that will continue to be the topic of conversation for music lovers of all eras.