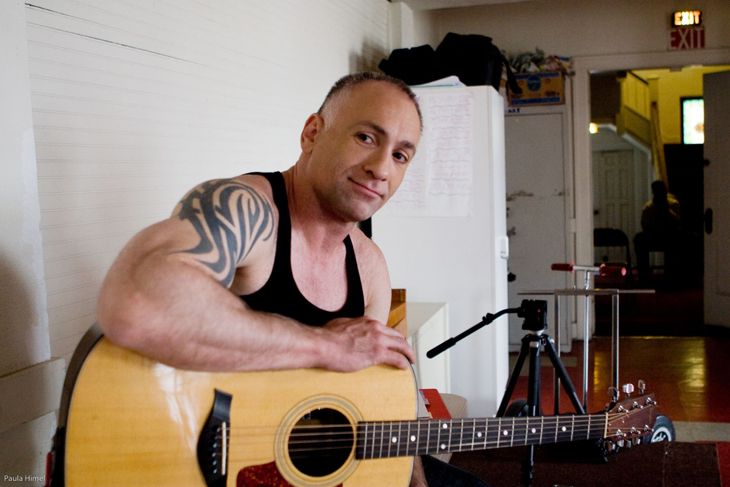 I am a recent convert to the church of Dudley Saunders, only finding his music late last year. Since then, I keep coming back to it, like an addict to his crack house. And not just because of the strong handsome features or his sexy build. On his albums, Dudley combines intricate and beautiful music with unexpected and haunting lyrics. You never quite feel like you are on even ground, as he keeps you off-balance, cuddling you one moment, running a chill down your spine the next. His albums are definitely a journey you take with the artist, almost bordering on a love affair. There are moments of infatuation, lust, love, recoil, disgust, anger... You get the idea. So when I found out he was working on a new album, I was excited, to say the least. But rather than allow me to prattle on about it, I'll let Dudley tell you himself.
Dudley is looking to raise just $4,000 to help with the marketing and promotions. Like all campaigns, there are levels of donations, each offering a gift in return. If you pledge $10, you will get an early download of the album, much like you have preodered the album. For $25, you will get the early download, as well as an autographed copy sent from the artist himself. For $50, you will get the early download, plus signed copies of the latest AND Dudley's last two CDs, and a download of his out of print debut. There are many more, including an opportunity to have Dudly come to your house for a private show for you, your friends and loved one! You can hear him performing his award-winning song "Monsters", also the title cut off the new album.
By now, we all know my theory about supporting the artists whose voices we and others need to hear, right? We can't expect everyone else to invest in your aural pleasure, for a listen on commercial radio will quickly tell you the LGBT voices never get the support they deserve, unless it is from our own community. And voices that combine the beauty and musicality with the focused eye of Dudley is well-worth our support. Check out this video for the song "The Undoing (Every Day)", featured on
The Billy Whiteacre Sessions+
album.
So stand up and let our voices be heard. Back Dudley Saunders, in a way you can afford. He is looking for your support, be it $1 or $4,000. Be open to hear his voice, when his sings a song about his life, and our life. Click on the widget below speak up, and let all our stories be heard.