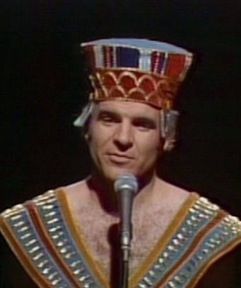 Clockwise: Steve Martin; Bette Midler; Rick Dees; and Cheech and Chong.
Every decade has their own novelty songs, and the 1970s were no different. What a better way to enjoy a Friday night than to take a look at four of those songs, and the enjoy them. I will start with a song released on the 1973 album,
Los Cochinos
. "Basketball Jones Featuring Tyrone Shoelaces" was featured on the album, a song about a teenager named Tyrone Shoelaces and his love of basketball. The song featured some of the great talents recording, like Cheech Marin as Tyrone, Darlene Love, Michelle Phillips and Ronnie Spector as the cheerleaders. Also,, Geoerge Harrison played lead guitar, Carole King the electric piano, Tom Scott the saxophone, and Billy Preston the organ. The following year, an animated short was made, for the song was really quite popular. Enjoy "Basketball Jones Featuring Tyrone Shoelaces".
While the US was celebrating the bicentennial, Memphis DJ Rick Dees was using his time on air to combine music, entertainment and comedy. As the country was beginning to feel the power of the bass in a new genre of music, some of the nation was also prepared to mock it greatly. That included Dees, who used the studios to record his own song, with his band known as Rick Dees and his Band of Idiots. In 1976, "Disco Duck" was released for the public, who laughed and sang along with the comical tale of the dancing duck.
In 1977, Bette Midler released the brilliant live album, Live At Last. I think that was the first Bette album I purchased, and lead me on an journey of severa decades of Bette songs, videos, books, and everything else I could consume. During the intermission of the show, there was a pre-recorded song that was written by written by Midler as well as brilliant songwriters Carole Bayer Sager and Bruce Roberts. The song was "You're Moving Out Today", which made me smile and laugh out loud long before there was an internet I could tell I was about to LOL. Enjoy this very funny song, "You're Moving Out Today."
In the spring of 1978, Saturday Night Live was having their heyday, at least according to us old folk. But in April, comic Steve Martin was a guest, and he was often known to combine his comedy with music. Well, mostly with his banjo. But not on this day. Steve took to the stage in a garish faux-Egyptian costume. While making fun of the commercialization of the touring exhibit of Egypt's ancient King Tutankhamun, and Martin began singing his tribute, "King Tut".
Hope you enjoyed the music, and had some laughs!