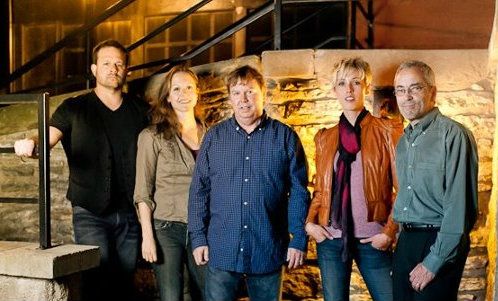 You know I love it when I get tips on new music from musicians, like I did to hear about "Close Enough", the music video debut from the Minnesota-based band, The War Poets. I got the tip from singer/songwriter Tom Goss, who had discovered the band from another friend. Dan Neale, Lisi Wright, Rex Haberman, Jenny Case and Matt Kirkwold make up the band line-up for The War Poets. The rockers are expecting to release their debut album,
Dulce et Decorum Est
, in October, but offered a preview with the music video for "Close Enough". The video is dedicated to the memory of the Stonewall uprisings in New York City in June of 1969. Watch and enjoy "Close Enough".
While I am sure there are some out there ready to make assumptions about The War Poets, but don't rush to any conclusions. I hope this is a sign of the times, for Dan, Lisi, Rex, Jenny and Matt are all straight musicians, just wanting to support the LGBT community and Marriage Equality. "These couples are in love, just like people in other relationships," says War Poets front man and songwriter Rex Haberman, who co-wrote the track with Grammy winning producer Kevin Bowe (Paul Westerberg, Meat Puppets, Jonny Lang). "They want to get married. It's a portrayal of what they go through to make that happen." When their debut album is released in October, the voters in Minnesota will be voting a 'Defense of Marriage' type of amendment, defining marriage only between a man and a woman. Haberman knows he grew up in an era of intense discrimination, when, he admits, "anyone fitting into the acronym LGBTQ was considered to suffer from a mental illness and the practice of showing one's love for another was illegal." Years later, American society has become more tolerant—but not tolerant enough. By stirring up more interested in the issue, War Poets hope to shine a light on a community that has been continually misrepresented—even undermined—by the same country that once arrested them and sent them to jail or psychiatric hospitals. "Close Enough" is available for purchase on
Amazon
. It should be available on iTunes soon. To find out more about The War Poets, visit their
official website
. You can also follow them on
Twitter
, or "like" them on
Facebook
. You could also thank them for standing up for what they believe in, equality for everyone!