For those of you who might not know who the amazing Blossom Dearie is, I will start off my saying she is not related to Mayim Bialik or her sitcom character 'Blossom'. Margrete Blossom Dearie was born in 1924, in the town of East Durham, New York. As a child, she studied Classical piano, and later took on Jazz as well. After graduating high school, she moved to New York City to pursue a career in music. She played in several groups, but in 1952, she relocated to Paris. By the end of the decade, she moved back to New York City, recording albums and playing in supper clubs. As she built a reputation in the clubs, she also occasionally appeared on a new television program,
The Today Show
. Then host Dave Garroway was a fan, and it really helped her career. During the later half of the 1960s, she was playing in clubs in the US and in the UK, gaining both popular and critical praise wherever she went. She continued to play for several decades, in clubs, theaters and Jazz festivals.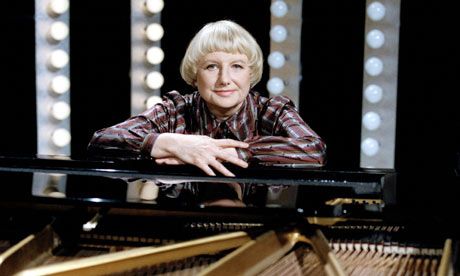 Now let's get to the real point, her music. I will start with a favorite of mine, and countless others as well. This first song is "Peel Me A Grape", written by Jazz pianist Dave Frishberg, and performed to perfection by Dearie. The song offers a sexy humor that is too much fun. Check out this performance by Dearie from 1999, when she was 74 years old.
Next we will get the chance to hear Blossom sing a great song written in 1932 by Duke Ellington and Irving Mills, with lyrics added later by Mitchell Parish. "Sophisticated Lady" is a jazz standard, but no one performs it quite like Dearie.
"I Wish You Love" is a French popular song, with music by Léo Chauliac & Charles Trenet and lyrics by Trenet. Trenet first recorded it in 1942. In the 1950s, Albert A. Beach wrote an English translation, and quickly became an American standard. Enjoy as Blossom gives her own special reading of the song.
In 1927, Richard Rodgers and Lorenz Hart wrote the musical,
A Connecticut Yankee
. It was the musical take on Mark Twain's popular novel,
A Connecticut Yankee in King Arthur's Court
. Several of the songs were sung by the likes of Nat King Cole, Frank Sinatra, Ella Fitzgerald, and Sarah Vaughan, and became Jazz standards. "Thou Swell" was perhaps the most popular of them, and was given this delightful reading by Dearie.
Finally, I wanted to add in one more very special song, by the amazing Cole Porter. "Give Him the Ooh-la-la" was written for the 1939 musical
DuBarry Was A Lady
. The original Broadway cast included Bert (Cowardly Lion) Lahr, Ethel Merman, Betty Grable, and Gypsy Rose Lee. It was Merman who introduced the song. I have to believe Blossom's take on the song was very different than that.
Blossom Dearie passed away in 2009 in New York City, at the age of 84. But she left a wonderful legacy of music that will be enjoyed forever. You can purchase
Verve Jazz Masters 51: Blossom Dearie
at
iTunes
and
Amazon
.