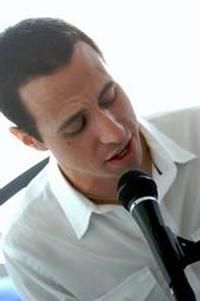 I am a recent convert to the musical genius of Avi Wisnia. And I have to admit, I love what I have discovered so far from my little Samba King. Well, to be more truthful, he is my Bossa Nova Prince, I guess. But no matter, for when it comes down to it, I just love the music, and felt the need to share what I could with you. Avi has a unique sound as he blends the Brazilian sound with acoustic folk and West Coast jazz. And due to the generosity of Avi's ReverbNation page, I can bring you 11 songs, most of which could be found on Wisnia's latest album,
Something New
. While I am sure you will enjoy all the songs, I would advise paying close attention to track 2, TLC's
No Scrubs
given a new life, track 4, Wisnia's incredible
Sink
, track 5, the delightful
Rabbit Hole
, and track 7, the Cure's
Love Song
offered is a luxurious jazz setting. So on this fine Sunday morning, I say grab a beverage - tea, coffee, or a glass of wine - and settle in to listen to what Avi Wisnia has to play.
If you like what you heard, you can click on the widget above and go to Avi Wisnia's ReverbNation page, where you can listen to the music, and even get a few free downloads. Or you can go to iTunes and download the
Something New
album
here
.