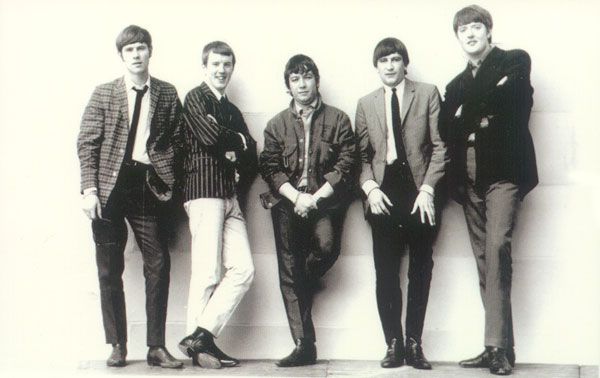 Formed in 1962 in Newcastle-Upon-Tyne, the original line-up of the group was Eric Burdon on vocals, Alan Price on organ and keyboards, Hilton Valentine on guitar, John Steel on drums, and Bryan "Chas" Chandler on bass. Their wild stage act got them the nickname "animals" and it stuck, and soon The Animals were born. By 1964, they had moved to London and were getting noticed with their strong covers of American R&B and Blues singers like Nina Simone and John Lee Hooker. The timing was just right, as the British Invasion was kicking in full-force in the US, and the band was signed by Columbia Records and on their way. They jumped into the studio and released their self-titled debut in September 1964. From that album sprang their first #1 hit, a traditional blues song,
House of the Rising Sun
. Although it was covered by many, the Animals were the most successful cover, in terms of sales.
In 1965, they released the
Animal Tracks
. Interestingly enough, there are two entirely different collections with the same name. The UK version was a collection of blues & rockabilly covers, while the US version included rock and pop singles. The US version of course had the hit
Don't Let Me Be Misunderstood
, which made it to #15 on the US Pop chart.
The first cut off the
Animal Tracks (US)
was the iconic
We Gotta Get Out of This Place
, which made it to #13 on the Billboard Pop chart. The song has gone on to be covered by some of the big names in the last few decades, from Bruce Springsteen to Bon Jovi to Ann Wilson.
Close behind that success, the band released yet another song that is part of rock history.
It's My Life
had great success in the UK and Canada, but in the US, it only made it to #23 on the chart. However, it had a long, successful run on album-oriented rock stations, who loved the gritty feel.
Finally, in the summer of 1966, the Animals came apart and the new line-up was called Eric Burden & the Animals. The scored big on the charts with the song
See See Rider
, a rock/blues song that went to #10 on the Billboard Pop chart.
However, not long after this, in the fall of 1996, the group disbanded, and Eric Burden staked a claim to a solo career. So, in just two years of making music on the big stage, the group had added greatly to the rich history of rock music.