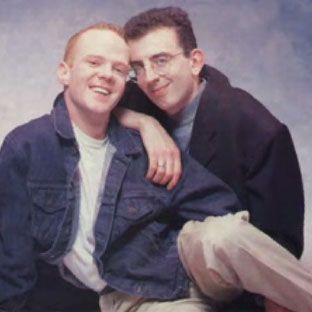 Richard Coles and Jimmy Somerville started to make music in 1984, when Jimmy left his very successful gig with The Bronski Beat. Coles, a classically trained pianist, offered a new and different sound to Somerville's former band. On their eponymous debut, they offered a version of a classic made famous by Billie Holiday,
Lover Man
in the 1940s. It offered up an interesting mix of Coles' trained musicianship, Somerville's inherent vocal gifts, and the vocal gifts of Sarah Jane Morris, who plumbed the bottom of her range to offer quite the sweet duet.
They also offered there own take on a pop love song on the second album,
Red
, when they released
There's More To Love (Than Boy Meets Girl)
in 1988. Unfortunately, this was as the band was coming to an end, and Jimmy and Richard went their separate ways. Before that, however, they did have this video.
Someville went on to have a successful solo career, which if I followed closely. In fact, I just purchased his latest EP,
Bright Thing
. Coles went on to work in the media, as both a journalist and narrator, including the voice work for the Style Council's film,
JerUSalem
. By the early 90s, he returned to school, earned a degree in Theology, and eventually became an ordained priest in the Church of England in 2005. But for a couple of years in the 80s, they ruled the charts and the dance floors with songs like
Don't Leave Me This Way
and
Never Can Say Goodbye
.