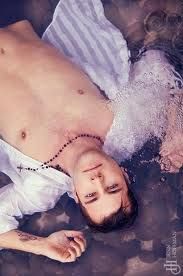 While he has no problem serving up all kinds of pretty, Billy Dortch has once again come up with a song that serves up talent and joy. I first crushed on the out and proud Dortch when I first heard his
Breathe
, well, saw the video and let my fingers do the running and purchased it from iTunes. That lead me to
Goodbye, Goodbye
, and then
Heart Clean
. And just this past Christmas, he offered up a free download of his holiday song,
Christmas (Baby Please Come Home)
.
It seems Billy is preparing another release, and, once again, he is willing to let some give it a listen. The song is called
Red (Let Go)
, and I really like it.
So, for more about Billy, check out his website
here
. You can also find him on Twitter
here
. And you can keep tabs on his videos posted to YouTube
here
.