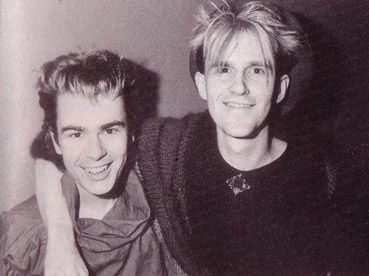 Top: Nik Kershaw. Bottom: Nik with Howard Jones.
Well, I am on my way to Toronto to see Theo Tams performing tomorrow night, but I still want to bring some good music your way. It would not be surprising that Nik Kershaw will be part of the playlist for the trip. Aside from the dashing good looks, the music was great fun. I was a big fan of Nik's in the 1980s, starting with
Wouldn't It Be Good
, released in 1984. The song was originally on the
Human Racing
album, although it was also included on the US version of his second album,
The Riddle
.
One of my favorite of his songs is
The Riddle
, which screams of 80s quirkiness. The video has this Alice In Wonderland meets Batman feel, with great costumes. But it is the song, with the interesting phrasing employed by Kershaw, as well as his musical choices, never taking the easy pop-route, almost using a jazz structure in his vocals.
I also love the vocals on Don Quixote, his 1985 release from
The Riddle
album. While employing traditional pop instrumentation, again Kershaw plays with the vocals, never taking the expected route. And I had a similar haircut at one point in the mid-80s, so don't make fun!
For more about Nik Kershaw, check out his official website
here
. I still believe his album
The Riddle
is under-valued, and should be listened to more often.