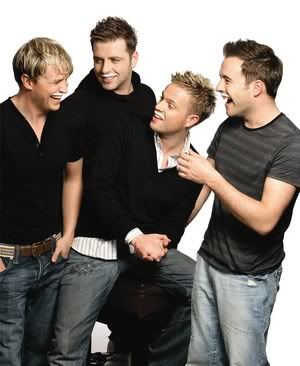 Westlife Got Milk - Kian, Mark, Nicky and Shane.
Yes, I am a fan of the Irish boys of Westlife. Mark Feehily, Shane Filan, Kian Egan and Nicky Byrne have made some great pop music in the last decade, and have done some interesting duets. The first I am going to feature was not an actual duet, but was made in an edit room working with released singles. From their latest album Where We Are, Westlife sang a song first released by the American group Daughtry,
What About Now
. When the songs are put together with a creative editor, this is what you get.
The next song was sung live on a television program in the UK,
An Audience With Lionel Ritchie
. While doing a retrospective of his career, Ritchie bring out the boys to sing the Commodores hit
Easy
.
The boys have never shied away from being a bit adventurous, even if it is on British television. I am crazy about the beginning with Mark singing with Donna. You know he is excited, cause what gay man hasn't wanted to sing with Summer? Here is
No More Tears (Enough Is Enough)
, and Donna looks great!
They joined Boyzone for a poignant
No Matter What
on a British program that honored the life of Stephen Gately earlier this year.