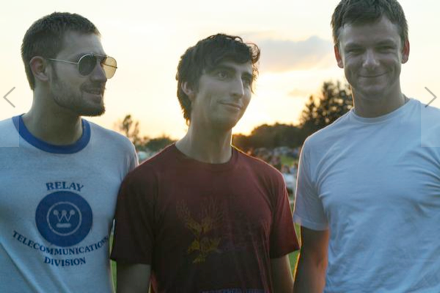 The Pittsburgh-based band Meeting of Important People release their latest EP today,
Quit Music
. The independent band, releasing the collection under the Authentik Artists label. The band first made waves in the music industry in 2006, with the release of their debut,
For The Masses
. In 2009, they released their self-titled album, their debut with Authentik. Quit Music is available on iTunes
here
, for just $4.99. You can also buy it on Amazon
here
, although there it costs $8.99.
One of the things I really like about this band is the fact that although you can hear influences in the songs, they always are creating their own sound, never sounding derivative. Their music has the influences of such bands as The Police, Snow Patrol, The Beatles, Interpol and others, all bands I love, but they never try to emulate, instead they have listened, learned, and used it to create their own special sound. Take, for instance, the opening song,
Training Song
. There is the obvious Reggae influences, but also a great rock sound. Listen to it.
The second cut,
Jesus Song
, has a nice acoustic sound for the most part, but there are times it sounds as though Slash is playing his best on it.
Big Muscles
wafts back and forth between a great Ska feel and some impressive Pop-Rock tempos.
Leap-The-Dips
starts out with more of a Pop sound, kinda like the Gin Blossoms at their best. but again, the song, in both structure and sound, grows well beyond the inspiration.
They Love Me In The City
begins with an almost ballad feel, then cranks into full Pop-Rock. Check it out here.
The last cut on the EP is
Country Wife
, which really reminds me of some of the great songs of The Jam, with the tight construction and driving beat of the early work of Paul Weller. As a bonus, the EP also includes Demo Versions of 5 songs:
Tonight
,
Let's Make Love In Pittsburgh
,
Jesus Song
,
Country Wif
e and
They Love Me In The City
.
While not on this EP, I thought I would include the video for
Brittney Lane Don't Care
, from their 2009 eponymous release. In it, you can see bandmembers Josh Verbanets, Matt Miller and Aaron Bubenheim hard at work. It also lets you see why the band garnered so much attention on the indie scene.
For more on Meeting of Important People, check out their MySpace page
here
. You can also find their FaceBook page
here
. Hope you enjoy them as much as I do!