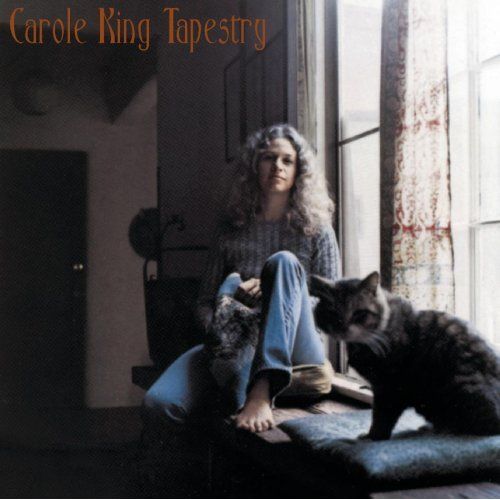 There are some albums I just feel inadequate to discuss, and Carole King's
Tapestry
is one of them. It is just plain amazing, and could be as close to perfection as it is possible to achieve. Released in 1971, the music just connected with so many hearts, the sales went through the roof. The album went to #1 on the Billboard album chart, and eventually sold over 11 million in the US, and over 25 million worldwide. Those are numbers few see in the Pop world now, let alone 39 years ago by a woman singer/songwriter.
Carole King started out as a songwriter, often pairing up with Gerry Goffin, whom she married. She started her career in the late 50s, and in 1960 had her first hit,
Will You Still Love Me Tomorrow?
, sung by the Shirelles. She went on to co-write such hits as
Some Kind of Wonderful
,
He Hit Me
,
Cryin' In The Rain
,
Don't Say Nothin' Bad About My Baby
,
One Fine Day
,
Up On The Roof
,
Oh No, Not My Baby
,
Don't Bring Me Down
and
(You Make Me Feel Like) A Natural Woman
. But it wasn't until 1970 that she started a recording career, releasing an album with little success. With her track record for making hit music, the studio gave her another chance, and in 1971, she released the great one,
Tapestry
. The first single was the beautiful and aching
It's Too Late
.
The B-Side of the song was one of my favorites,
I Feel The Earth Move
. It has great elements of Folk, Pop, and Rock, with a bit of the Blues thrown in for good measure.
The next single was the exceptional
So Far Away
. The song has such a strong sense of love displaced, of emotions frayed. Lightly produced, the emotional core of the song is emphasized more than the instrumentation, so you are listening to the singer communicate from the heart.
While not released as a official single,
(You Make Me Feel Like) A Natural Woman
was an amazing reworking of a song already known by another artist. Aretha Franklin practically owned the song, that is, until the writer took it back, and gave it her own spin. And it was magic.
King also took back the song
Will You Still Love Me Tomorrow?
from the Shirelles, and again worked some magic. It went from uptempo Do Wop song to a heartbreaking ballad.
Carole King is still touring today, recently with James Taylor. A song she wrote that was on
Tapestry
,
You've Got A Friend
, was a pretty big hit for JT. To find out more about Carole King, check out her official website
here
. And if you don't already have Tapestry in your collection, got get it now!