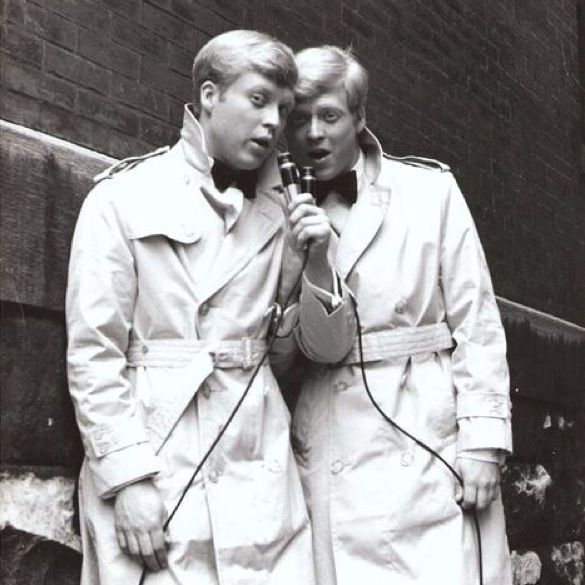 Identical twins Jay and Jerry Hopkins were born and raised in Helena, Montana, where they began their careers in entertainment, studying and appearing in musical theater. It was not long before the boys moved to New York City to pursue their dreams, and they were discovered by an music executive as they were performing together in Greenwich Village. Soon, Twinn Connexion was signed by Columbia Records, and then Decca. They also had a manager who believed in them, Bob Cessna. Their music was a frothy combination of Pop and Rock, and is now considered in the forefront of the 'Sunshine Pop' movement. In 1968, they released the eponymous album, and had some moderate success. This is the track "Turn Down Day", off the 1968 album, 'Twinn Connexion'. The song was originally written and released by The Cyrkle in 1966.
That recording was nominated for a Grammy Award. It was a time that Decca was going through some changes, and promotions were cut. Soon, Jay and Jerry found themselves out of the music business. Jerry went to art school, and Jay started his career as a stock broker. Jay passed away in 2001, after having a successful career on Wall Street. Jerry became a noted artist, living in Woodstock, New York, with longtime partner Bob Cessna. They were together for 44 years, when he passed away in 2008. Jerry decided to give some time to music once again, and put together a record of demos and unreleased material for the Twinn Connexion. That album is 'Songs From the Heart', and it is great fun. To learn more about Twinn Connexion, visit their
official website
. You can also connect with Jerry Hopkins on
Facebook
, as well as 'follow' him on
Twitter
. To purchase the music of Twinn Connexion, you can find them on
Amazon
.