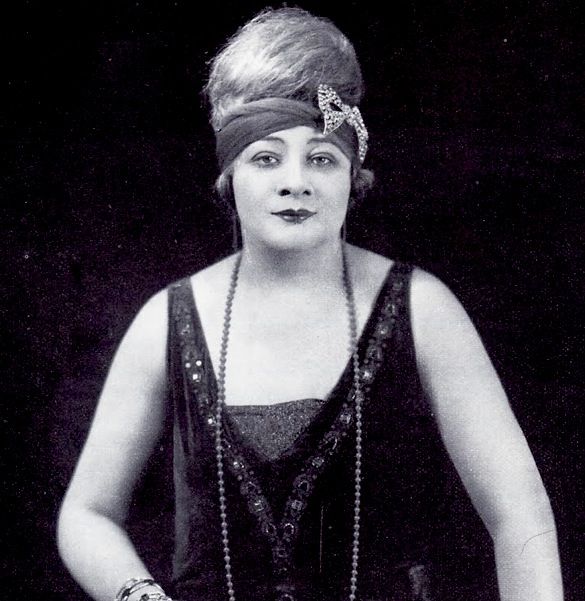 I am not sure why, but I decided to go with a couple of songs recorded by Sophie Tucker in the 1920s. Big and bold is the first thing to come to my mind when thinking of Sophie Tucker. Maybe it is because I was introduced to her music by Bette Midler, who did those amazing jokes in her performances. The jokes were bawdy and smart, and I loved them.
While it might have seemed like spirited fun, it did lead me to check out who this Sophie Tucker person was. Born in Russia in 1887, her family moved to the United States when she was still a baby. Sophie grew up to a a big star, a singer, comedian, actress, and a great personality that kept the public wanting more. Like Midler some 50 years later, Tucker was know to be suggestive, and at times even bawdy. In fact, she performed much of her early career in blackface, as producers thought the audiences would not accept her humor and style from a white woman. At one point, Sophie refused to put on the makeup, and the audiences had no problem. Ultimately, Sophie was a wonderful singer. In 1929, she recorded a new song, "Moanin' Low". The song had music by Ralph Rainger and lyrics by Howard Dietz. It was published in 1929 and was featured in the musical revue 'The Little Show'. The song became a great standard, sung by many. I have to say, I do love the say Sophie delivers "Moanin' Low".
I love the emotional investment Sophie puts in her performances. You can hear it in "Blue River", the 1927 song written by Alfred Bryan and Joseph Meyer. It was recorded that same year by Tucker, who has a wonderfully strong vocal. I don't really know much about the song, but know it is part of my Sophie Tucker collection. This is Sophie with "Blue River".
The next song was so familiar to me, yet I still love the freshness Sophie brings to it. Roger Graham wrote the lyrics, and Spencer Williams wrote the music for "I Ain't Got Nobody" in 1915, but I remember Louis Prima's version from the 1950s. And there was the version by David Lee Roth from 1985, paired with "Just A Gigolo". I still think my favorite is this one, by the great Sophie Tucker. I hope you enjoy the 1927 version by Sophie with Miff Mole and the Little Molars of "I Ain't Got Nobody".
Tucker paired up with that group as well on another famous song, one closely associated with the legendary singer. Sophie recorded "After You've Gone" also in 1927, and was backed by Miff Mole and the Little Molars. The song was written in 1918 by Turner Layton, with lyrics by Henry Creamer. Sophie puts a strong Blues take on the song, and used her distinctive style to make it her own. This is the recording of "After You've Gone".
Have a great weekend!