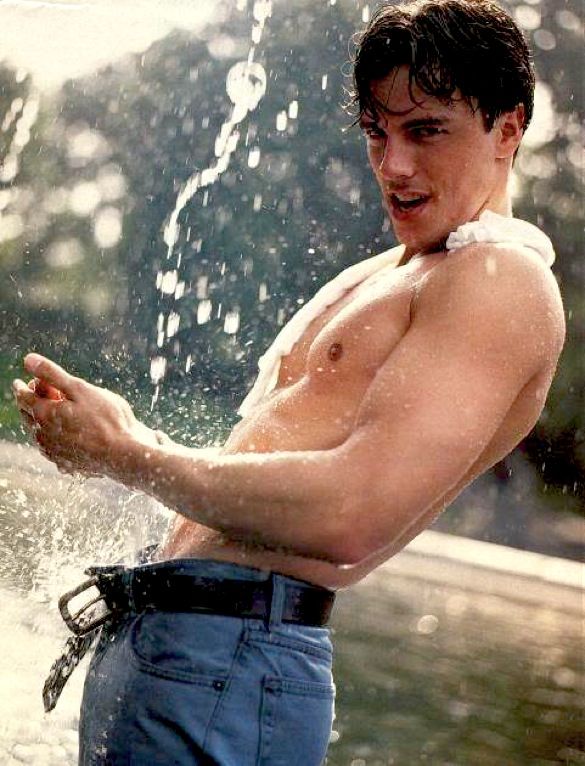 On this day in 1967, the world was given an exceptional performer, and an amazing man. John Barrowman was born in Glasgow, Scotland, but the family moved to Illinois when he was 8 years old, where he eventually became a naturalized citizen, and still maintains a dual citizenship with the US and Great Britain. I've had a crush on John Barrowman for a long time, and all I can say is that it seems to get stronger as time goes on. I first remember hearing about a new tenor on stage, information I enjoyed as a musical theater geek. He had gotten stellar reviews for his role in Cole Porter's 'Anything Goes' on London's West End, the first of many. I first knew of him when he was one of the stars in 'Putting It Together', a musical review featuring music from several Stephen Sonheim shows. It also starred Carol Burnett, George Hearn, Ruthie Henshall, and Bronson Pinchot. I have the DVD. Handsome, with a great voice, I knew I was a fan for life after that.
I was also thrilled to hear not only was Barrowman and out and proud gay man, he was also willing to be a man who stood up for himself and others as an activist pushing for equality. John has been happily partnered with husband Scott Gill, who also happens to be gorgeous as well. I say partnered, for they entered into a civil partnership in December 2006, as marrying wasn't available to them. He has been open and honest about his sexuality, making it easier for those who come after him. He has not let anything stand in the way of doing a great job, whether it be on stage, screen, or album. And speaking of music, in 2008 he had a great album named 'Music Music Music', a combination of new material and cover songs. One of the new songs was "What About Us?", written by Gary Barlow and Chris Raide. It is a wonderful song, but the music video was quite amazing, featuring both same sex and opposite sex couples. This is the official music video for John Barrowman's ""What About Us?".
)
When I heard about Barowman's performance on a British game show named 'Never Mind the Buzzcocks', I had to search it out. Luckily, many of the episodes can be found on YouTube, and it not only made me laugh often, it also introduced me to a new favorite, comedian/actor/host Simon Amstell. Amstell, perhaps best known as a stand up comedian, is also an out gay man, and the two had a hysterical exchange on the program. It was so good, I had to check out Amstell, and I know have a DVD, 'Do Nothing', as well as watched his very funny TV show, 'Grandma's House'. But this clip also made me literally laugh out loud as the do men did their thing on the BBC. This is Simon Amstell and John Barrowman in a 'gay off' on 'Never Mind the Buzzcocks'.
)
One of the cover songs that were a part of 'Music Music Music' was a song from the musical 'Chess', with lyrics by Tim Rice, and music by Benny Andersson and Björn Ulvaeus, best known for their work in ABBA. The song is sung in the show by a chess master's wife and his mistress, and the struggle relationships can be. John included it on the album, and kept the duet by inviting another handsome and talented man to join him, Daniel Boys. I had discovered Daniel on the BBC program 'Any Dream Will Do', which I watched to see Barrowman, who was a judge/mentor as the show searched for the new leading man in Andrew Lloyd Webber's production of 'Joseph & the Amazing Technicolor Dreamcoat'. Daniel has been featured several times on this blog, and I owe it all to Mr Barrowman once again. When John went on tour, he often sang the song, and had Daniel join him. This is a clip of John Barrowman and Daniel Boys singing "I Know Him So Well" at the 2008 Faenol Festival.
I have followed John career, including his wonderful time on 'Doctor Who', as well as the exceptional spin-off, 'Torchwood'. His work as the omni-sexual Captain Jack was glorious. His stint on the recent hit 'Arrow' made me realize how much I loved having him on my television screen. As part of a 'Torchwood' DVD, the producers included a clip of John singing "Anything Goes", a song by Cole Porter from the musical of the same name. There is John, looking all handsome in his Captain Jack finery, and singing a song he knew well from his first hit on London's West End. It is impossible to resist him, but then again, I find it always is. This is John Barrowman singing "Anything Goes" from the 'Torchwood' DVD.
For more about John Barrowman, you can visit his
official website
. You can also 'follow' him on
Twitter
, and 'like' him on
Facebook
. You can't find 'Music Music Music' in the United States - I guess there are song rights issues. However, you can find one of my very favorite albums from John, 'John Barrowman Swings Cole Porter', on
iTunes
and
Amazon
. You can also find 'Tonight's the Night: The Very Best of John Barrowman' avaialbe as an import CD on
Amazon
.