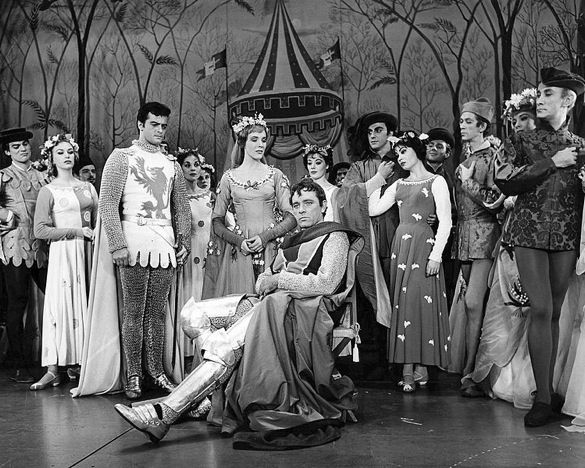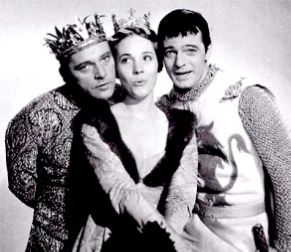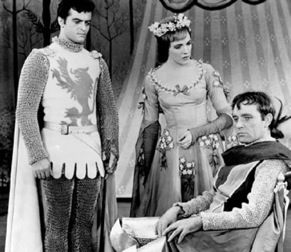 On December 3, 1960, a beautiful and popular musical opened on Broadway with a remarkable cast. With book and lyrics by Alan Jay Lerner and music by Frederick Lowe, 'Camelot' set out to tell the story of the love triangle between King Arthur, Queen Guinevere, and Sir Lancelot. With Richard Burton giving life to Arthur, and Julie Andrews to his queen, and Robert Goulet making his Broadway debut as Lancelot, people were intrigued with the show, and just how good it could be. Once it was running, there were no more questions, as it ran for more than three years, keeping audiences enthralled and fascinated by the story. The production won four Tony Awards, including one for star Richard Burton.
As he did win the Tony Award for 'Best Actor in a Musical' for playing King Arthur, I feel as though I should begin with Richard Burton. And I must be honest here, it is not like Burton was a great singer, but he certainly had a rich voice, with wonderful depth to it. He would basically 'talk' through his songs, but do it with great style. You can see that here with this clip of him singing live, even if it was not in costume as King Arthur. I hope you enjoy Richard Burton singing the title song, "Camelot".
It is hard to have a bad word to say about just about anything that Julie Andrews has done in her career, and this was no exception. While she was already a Broadway star, with popular turns in 'The Boy Friend' and 'My Fair Lady', Hollywood felt she wasn't a 'bankable' star, and did not use her in the film versions of the previous two, or 'Camelot'. Interestingly enough, her replacement in 'My Fair Lady', Audry Hepburn, needed Marni Nixon to sing the songs for her, and the film's Guinevere, Vanessa Redgrave, was not known as a singer. But no matter, for Julie was exceptional in the show, her voice a perfect match for Lerner and Lowe, who had also written 'My Fair Lady'. Sadly, I couldn't find a clip of her singing any of her songs live, but you will hear the greatness in Julie Andrews' recording of "Before I Gaze At You Again".
Robert Goulet was born in Massachusetts, but moved to Canada with his Canadian mother after his father passed away when he was just 13 years old. But he came back to the US, and met Lerner and Lowe in 1959, who were having trouble casting the role of Lancelot in their upcoming show. Apparently, he was the answer to their problem, for he made his Broadway debut in in the show. Goulet was a handsome man with a deep, rich voice that had the range needed for Lancelot. He wowed everyone, and it is easy to understand why when you watch this clip of Robert Goulet singing "If Ever I Would Leave You".
Together, it seems as though Andrews and Burton had a great time. In the second act, they had a charming number that can bring smiles whenever I listen to it. After all, you have 'royalty', the King and Queen of England, wondering what it is exactly the common folk did in their spare time. Burton proved to be a strong comedian, with a soft touch, and Andrews certainly kept up with him. This is Julie Andrews and Richard Burton singing "What Do the Simple Folk Do?".
It was said that after the opening of the show, the Original Cast Album became a favorite of President John F. Kennedy in the White House. It helped to add a mythic touch, and soon the Presidency became affiliated with the show, and was often referred to as 'Camelot'. You can find the 'Camelot' Original Broadway Cast album on
iTunes
and
Amazon
.