When thinking about what I was going to do for my Saturday night post, I did what I often do, and opened up my iTunes and decided to look through it, and to get some inspiration. I am checking out the favorites, and just would like to go in a different direction, so I move on. I start looking at song titles, and find several in an album, and the light goes off. The album is 'Hollywood', the 2011 release from The Puppini Sisters, and I realize I should go with it.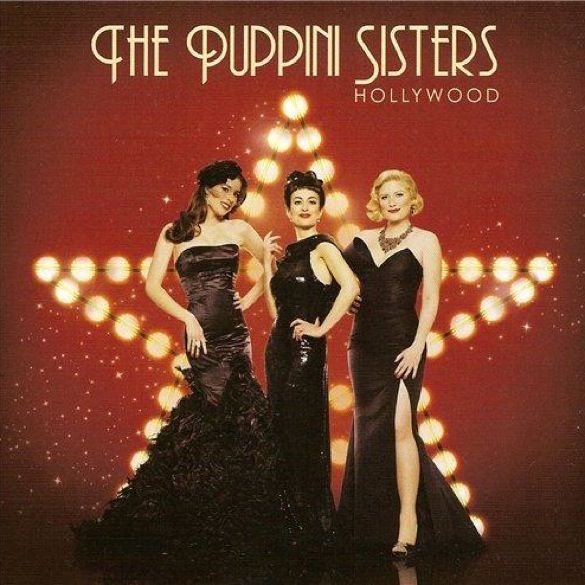 For those who might not know them, The Puppini Sisters are not real sisters, but were students who met in music school in England. They took on the personae of sisters as a tribute to the Andrews Sisters, a group all three loved and admired. The music on the 'Hollywood' album was a combination of old favorites from some great movies, and a couple of new songs. Marcella Puppini, Kate Mullins and Stephanie O'Brien recorded the vocals for the album, although O'Brien has since left he band, to be replaced by Emma Smith. The first song on the list tonight would be a song with a strong identity of it's own. "Diamonds Are A Girl's Best Friend" was first introduced to the world by Carol Channing in the 1949 musical, 'Gentlemen Prefer Blondes', based on a novel by Anita Loos. The show had lyrics by Leo Robin and music by the great Jule Styne. But it is perhaps best known from the performance by Marilyn Monroe in 1953 film version of the musical. Somehow, the Pippini Sisters manage to make me forget about those other versions, and simply enjoy theirs. This is the Puppini Sisters singing the classic "Diamonds Are A Girl's Best Friend".
"I Got Rhythm" was written by George and Ira Gershwin for the 1928 musical, 'Treasure Girl'. For that show, it was intended as a ballad. The song was revived and made uptempo for the 1930 musical, 'Girl Crazy', when it was performed by Ethel Merman. When the Puppini Sisters take it on, the give you something very much their own. They give you some ballad, some syncopation, and everything you want it to be. This is The Puppini Sisters singing "I Got Rhythm".
When it comes to an iconic MGM musical moments, it is hard to beat the next song. Have Judy Garland in a men's jacket and shirt, a fedora, stockings, and heels and singing a great song, it is tough to top. Somehow, though, Judy managed to do it on her own television show, when performed it as a mash-up with "Happy Days Are Here Again", sung by Barbra Streisand. "Get Happy" was introduced by Ruth Etting in 'The Nine-Fifteen Revue' in 1930. It was the first song composer Harold Arlen and lyricist Ted Koehler wrote together. But the song is really best known as a song sung by Garland in the 1950 film 'Summer Stock'. But this is how The Puppini Sisters sing "Get Happy".
The next song won an Academy Award for Best Original Song in the 1961 movie 'Breakfast at Tiffany's'. It was first performed by Audrey Hepburn in the film. "Moon River" had music by the great Henry Mancini and lyrics by the amazing Johnny Mercer. Many other have sung the song, but I can't really think of one that compares with the iconic performance of Hepburn. Still not everything in life is a competition, and once the ladies take it on, they show you they will be able to do their thing, and not worry about the rest. This is the Puppini Sisters singing "Moon River".
The album is a delicious collection, a flirty journey from start to finish. They manage to combine fun with a feeling of authenticity that keeps me pressing play! For more about the Puppini Sisters, visit their
official website
. You can purchase 'Hollywood' from
iTunes
and
Amazon
.