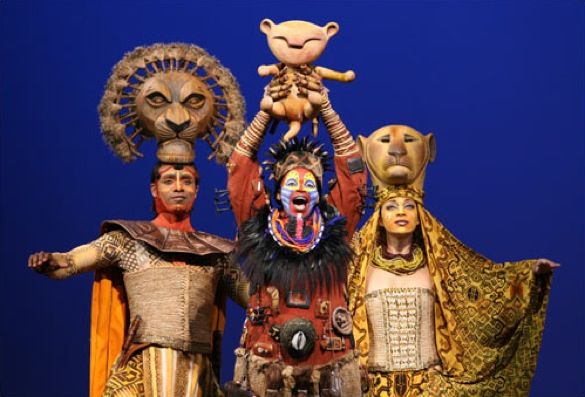 Scenes from the musical 'The Lion King'.
In recent years, it has felt as though Disney was taking over Broadway. In 1994, the first Disney film made the Broadway debut with 'Beauty and the Beast'. The show was a new look at the 1991 hit animated film. The animation to live show transition also made magic for 2006 productions of 'Mary Poppins' and 'Tarzan', 'The Little Mermaid' in 2007, and 'Aladdin' in 2010. Most recently, there was the opening of 'Newsies' in 2012, an adaptation of the live action film. Never a company to rest on their laurels, Disney also has 'The Hunchback of Notre Dame', 'The Jungle Book', and 'Frozen' in the works, as well as others, I am sure. When all is said and done, I think it was 'The Lion King' that grabbed much of the attention, what with the use of puppetry and make up to capture the animals of the African dessert. With music by Elton John and lyrics by Tim Rice, the show breathes life into the animated musical. Maybe the most well known number from the show and movie is "Circle of Life", the first song of the show, sung by Rafiki and the ensemble. This is a clip from a performanc3e on the Tony Awards.
However, there is also "Can You Feel the Love Tonight?", the song that won the Academy Award and the Golden Globe Award for 'Best Original Song' for 1994, as well as earning Elton John the Grammy Award for 'Best Male Pop Vocal Performance' for his recording. Elton also went to #4 on the Billboard Hot 100, and was on the charts all around the world. In the show, the song is sung by the characters Timon, Pumbaa, Simba, Nala and ensemble. This is "Can You Feel the Love Tonight".
I decided to include a clip of another early song in the production, "The Lioness Hunt". While there are lyrics and singing, I think of it as mostly a dance number, allowing the lioness' in the ensemble to truly shine. You get to see how the production utilized costumes and movement to capture the mood and feel of the African dessert, and bring the audience on this safari. This is "The Lioness Hunt" from 'The Lion King'.
'The Lion King' continues to pack the house on Broadway. To learn more about the production, visit the
official website
. You can also purchase the Original Broadway Cast Album from
iTunes
and
Amazon
. You can also find some great souvenirs from the
online store
.