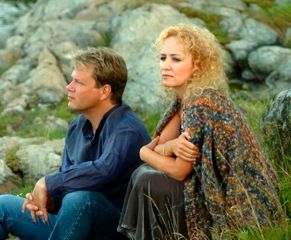 Left: Secret Garden members Rolf Løvland and Fionnuala Sherry. Right: Brian Kennedy.
As tomorrow is St. Patrick's Day, I thought I would bring you a classic favorite from an unexpected source. While most are familiar with a "You Raise Me Up" when sung by either Westlife or Josh Groban, I thought I would bring in the song as performed by Secret Garden. At the center of Secret Garden are Fionnuala Sherry and Rolf Løvland, instrumentalists who meld Celtic and Nordic Folk music to create some amazing results. That would include the song "You Raise Me Up", with lyrics by Brendan Graham and music by Rolf Løvland. The duo invited Irish vocalist Brian Kennedy to lend his considerable talents to the recording session, and, as you might expect, something special happened. This is "You Raise Me Up" by Secret Garden and featuring Brian Kennedy.
Sadly, while it might be the original recording, it was not the best selling. Westlife had that honor in Europe and elsewhere in the world, and Josh Groban in the United States and other countries around the globe. "You Raise Me Up" can e found on 'The Best Of Secret Garden 20th Century Masters - The Millemmium Collection', available for purchase on
iTunes
and
Amazon
.