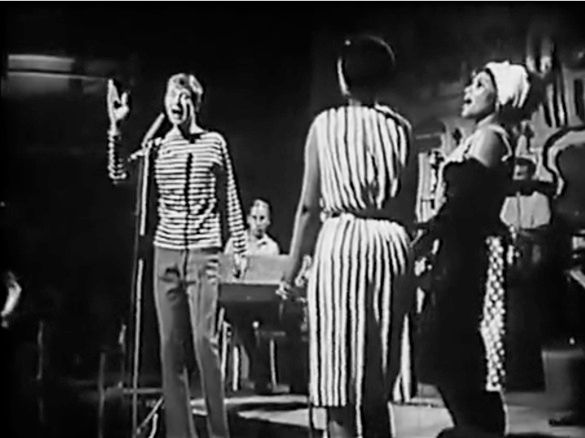 The Cyril Davies All-Stars were a fantastic group of British musicians who played together in the early 1960s, including Mick Jagger and Bill Wyman. They played Blues music, inspired by the great American Blues great like Leadbelly and Robert Johnson. The band went looking for a lead singer, and in 1963 brought in Long John Baldry. The band at times struggled due to personality differences, but never with the music. And though Baldry was openly gay at a time when it was still illegal in the UK, it has never been listed as one of the reasons bickering took place. Here is the Cyril Davies All-Stars singing "C.C. Rider" with Long John Baldry on lead vocals. The song was written by Ma Rainey and Lena Arant, and first recorded by Rainey in 1924. I should mention that Ma Rainey was said to be one of the first great LGBT singers, writing and performing songs about her love for women.
In that first video, Davies was featured on the harmonica, but in this second clip, when the band was playing "Got My Mojo Working", Cyril stepped up to take the lead vocals. Baldry can be seen playing the tambourine and singing background vocals. Also included in both clips was the group of background singers known as the Velvets, a group of ladies from South Africa. The song was written by Preston foster in 1956, but made popular by Muddy Waters in 1957. Enjoy "Got My Mojo Working".
By the end of 1964, Cyril Davies passed away, and Baldry took over control of the band. This included added an additional vocalist to the line-up, a young Rod Stewart. After the band broke up in 1966, Baldry formed Bluesology, with a young Reginald Dwight on keyboards and Elton Dean, later of Soft Machine, as well as Caleb Quaye on guitar. Later Dwight adopted the name Elton John, his first name from Dean and his surname from Baldry. It was said Baldry helped Elton John to come to terms with his homosexuality, and is the man about whom John wrote his great song, "Someone Saved My Life Tonight".