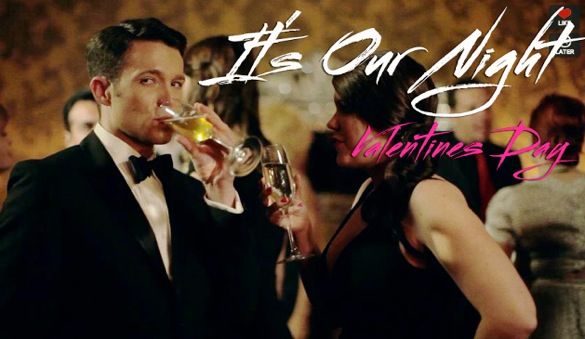 You know, I sometimes hear about new music in the oddest of ways. I discovered this release by Jason Dottley via a post on Facebook by news reporter Itay Hod, who is apparently the 'hand' model for the cover shot. Now, while I will admit that Itay has been in a dream or two of my own, it was generally not his hands... Now, this is my first introduction to Jason, and I must say it is a nice one. I did a bit of looking, and I learned he is an out and proud member of the LGBT community. He already has had dance hits, and will be releasing a new album, 'Love Story', soon. HE is an actor as well as a singer, and is quite the handsome man, too. Seems like a great 'catch' on any Valentine's Day. Back to the important information, it seems "It's Our Night" was released in time for Valentine's Day, both the song and the music video, and that is when I found them! The video has a sexy feel to it, a slightly displaced 'Mr & Mrs Smith' thing, with handsome men in tuxedos looking to execute a hit. But is Jason being paid for it, or is it an act of jealousy?
To learn more about Jason Dottley, visit his
official website
. I know I certainly discovered Jason is more than just a pretty face there! You can also find him on
Facebook
and
Twitter
. "It's Our Night" is available for purchase on
iTunes
and
Amazon
.