I was a huge fan of Nik Kershaw in the 1980s, when his first two albums, 'Human Racing' and 'The Riddle', brought him to international attention on the strength of great singles and music videos. While he didn't make a sizable impact on the US Billboard charts, I first saw his videos on MTV, and quickly became a fan. I was so excited to see him play on Live Aid, playing at Wembley Stadium in London to a huge crowd, as well as the incredible television viewers. He fit in so nicely with my preoccupation with Howard Jones, The Police, and U2. Nik was a big Pop star in the UK, with his dashing good looks wrapped in New Wave fashions, making some great music.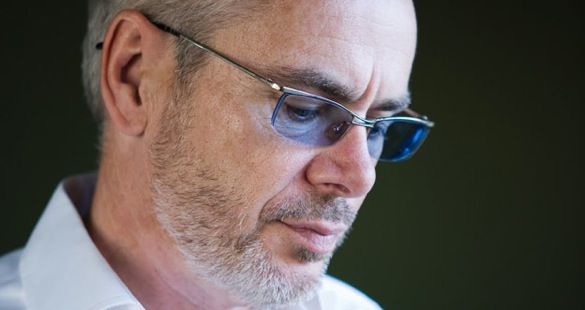 Top: Nik is the 1980s. Bottom: Nik today.
So when Nik released his 2010 album, 'No Frills (Solo Acoustic)', I was excited to hear his new take on some of the songs I still hold close to my heart. The intent behind the album seemed to be recording the tracks as Kershaw would play them in an acoustic set, on his own. And I will begin with the first song I remember by Nik, "Wouldn't It Be Good". The song, off his debut album 'Human Racing', was the first of his songs to make it to the Billboard Hot 100. The original music video was this interesting combination of Film Noir and SciFi, and that amazing technicolor raincoat. Twenty-six years later, Nik re-imagined the song for his acoustic collection, and it is a beautiful thing.
Kershaw had another hit that was making it into the Billboard chart. "The Riddle", the title cut off the album released in late 1984, had an imaginative music video that was more 'Alice In Wonderland' than anything else. Much was made of the song, for the lyrics often seemed more stream-of-consciousness or drug induced than anything else. Nik himself went on to say "'The Riddle' is nonsense, rubbish, bollocks, the confused ramblings of an 80's popstar." So it would be interesting to hear the new version, wouldn't it? I did, and have to say, it is amazing.
Finally, I think "Don Quixote" is one of my all-time favorite songs by Kershaw. The third single off 'The Riddle' had this great guitar driving it, and an interesting vision of the Don Quixote story. It played with rhythms, not sounding like a Pop song at all.
I have to be honest, and admit I love the 'No Frills (Solo Acoustic)' album. It is an amazing addition to my collection, and I play it all the time. To learn more about Nik Kershaw, visit his
official website
. He can also be found on
Facebook
and
Twitter
. You can purchase 'No Frills Solo Acoustic)' on
iTunes
and
Amazon
.