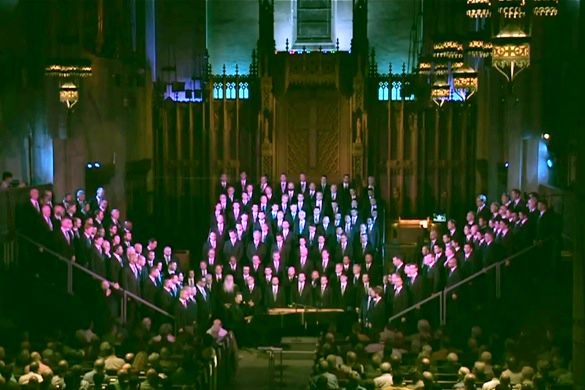 Clockwise: Gay Men's Chorus of Los Angeles; Jennifer Holiday; and Levi Kreis.
I think I found some great music that will surely inspire some this Sunday morning. And it all comes courtesy of the Gay Men's Chorus of Los Angeles, who makes great music for all who care to listen. For over thirty years, the Chorus has been been a strong voice in the performing arts community, performing locally, touring nationally, and internationally. First I will bring up the clip of the group paying tribute to the late, great Marvin Gaye tribute, as they sing his amazing song about oppression and abuse, "What's Going On". The chorus starts the song with an intro of "War", the Edwin Starr hit written by Norman Whitfield and Barrett Strong in 1969.
The chorus has never shied away from bringing in talented people to share their stage. I simply could not resist posting the performance of the gifted Jennifer Holiday sharing the stage with the chorus to sing "Family", the amazing song from the Broadway musical 'Dreamgirls'. With music by Henry Krieger and lyrics and book by Tom Eyen, Jennifer delivers the song as only she can, and offers her support to the community. Of course, she brings the audience with her on the journey, which ends with a standing ovation for this 2009 performance.
From one Tony Award-winning actor to another, out and proud performer Levi Kreis sings "His Eye Is On The Sparrow". The song, written in 1905 by lyricist Civilla D. Martin and composer Charles H. Gabriel, has become a classic spiritual, sung by some of the great names in Gospel music. As far as I can tell from this video, which was recorded about a year ago, you can certainly add Levi's name to the list of performers who sing the song to perfection. turn up the volume, and put the video to full screen, and enjoy this.
For more about the Gey Men's Chorus of Los Angeles, visit their
official website
. There you can support the chorus with a
donation
, or you can purchase their music at
CD Baby
. You can also find their music on
iTunes
and
Amazon
.