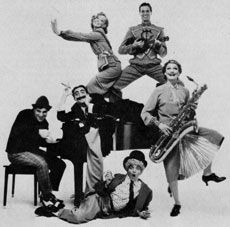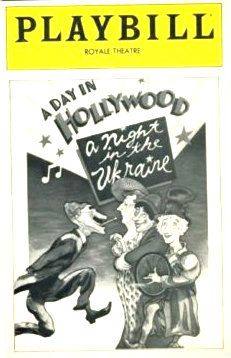 While going to college at Albright College in Reading, Pennsylvania, I took an active role in the fledgling theater department, lead by the colorful department head Dr. Lynn Morrow. She would also plan yearly trips to New York City, when a group would go for a long weekend, and catch as many shows, both Broadway and off-Broadway, as the schedule would allow. We would all hop on the Bieber Bus and head into the city, where we'd stay at the Empire Hotel, not far from Lincoln Center. Back in those days, it was an inexpensive place to stay, not the chic haven it is now. I had the opportunity to see some great shows in those days, from Broadway shows, to smaller, more intimate plays at places like the Manhattan Theater Club and Circle In The Square. I remember seeing early productions of
Mass Appeal
,
The Miss Firecracker Contest
, and others. We also saw a show running on Broadway I knew nothing about.
A Day In Hollywood/A Night In The Ukraine
was a show that opened with little fanfare, but was so full of charm and talent it was hard to not leave the theater feeling better than when you arrived. It was actually two one act musicals, the first set in the heyday of the Movie Musical, combining some classic songs with some new one that spoke to the eras of the 1930s and 1940s. Perhaps one of the most memorable moments from the first act was the cast going through the rules set up by the powers that be on the rules of making movies. It was known as the "Hollywood Production Code", only here it is a a tap dance number.
In truth, the entire first act was amazing.
A Day In Hollywood/A Night In The Ukraine
opened on May 1, 1980 at the John Golden Theatre on Broadway. The original cast included Kate Draper, David Garrison, Niki Harris, Peggy Hewett, Stephen James, Frank Lazarus, Priscilla Lopez, and Albert Stephenson. The songwriters featured are some of the best in the business, like Jerry Herman and Richard A. Whiting, and original songs by Dick Vosburgh and Frank Lazarus. Since I couldn't find much on YouTube, I made this little clip to showcase the music in the opening act.
The second act was a brilliant recreation of a play by Russian playwright Anton Chekhov, if it were ever cast to showcase the slapstick talents of the Marx Brothers. I remember laughing and cheering the whole time, not wanting it to end. I also admit to having a bit of a crush on David Garrison, who later went on to play neighbor Steve on Fox's
Married...With Children
. For music that mill most certainly keep you happy, you can find the original cast album for
A Day In Hollywood/A Night In The Ukraine
on
iTunes
and
Amazon
.