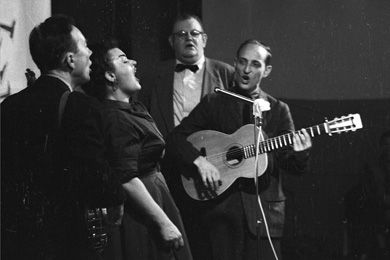 Left to right: Pete Seeger, Ronnie Gilbert, Lee Hays and Fred Hellerman.
In preparation for a feature post tonight, I thought I'd let The Weavers, Pete Seeger, Lee Hayes, Fred Malterman, and Ronnie Gilbert, sing us into Sunday, and out as well. From the late 1940s on, The Weavers delivered a wide variety of music, from Folk, to Pop ballad, to Gospel. First up give a listen to the traditional spiritual "Sinner Man". Most historians believe the song first appeared just before 1900, in Southern churches. In the late 1950s, The Weavers had a popular recording of it. Listen to "Sinner Man".
Although "When The Saints Go Marching In" is thought to have originated in the Southern churches, it is more likely to be played these days by Jazz bands than church organists. Either way, it is a great way to start your Sunday. Listen as The Weavers sing the song.
Both songs can be found on
Gospel
, the album released by The Weavers in 1958. You can purchase
Gospel
on
iTunes
and
Amazon
. Enjoy your Sunday!