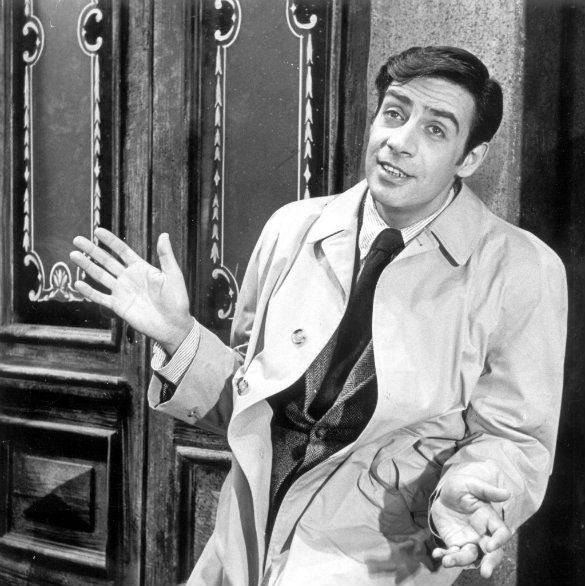 Jerry Orbach as Chuck in Promises Promises in 1968.
Although Jerry Orbach might be remembered by many as the cranky Lennie Briscoe on the televisions show
Law & Order
, or as the tough private detective on Angela Lansbury series,
Murder She Wrote
. But many theater lovers knew long before he played Lumuiére in Disney's Beauty and the Beast what a talent the man was, a strong star in the American musical theater. Take, for instance, his leading role in the 1980 Broadway production of 42nd Street, a show that won the Tony Awards for Best Musical, Best Direction, and Best Choreography. Check out this clip from the 1981 Tony Awards broadcast, featuring Orbach and the cast singing "Lullaby of Broadway".
But 20 years before
42nd Street
, Jerry starred in the original off-Broadway production of
The Fantasticks
, which ran a total of 42 years and 17,162 performances, making it the world's longest-running musical. It featured music by Harvey Schmidt and lyrics by Tom Jones, including some incredible songs like "Soon It's Gonna Rain" and "I Can See It", as well as the beautiful performance of "Try To Remember". Here is Jerry singing the latter on a 1982 television special.
He also starred in the 1968 Broadway production of
Promises, Promises
, a musical based on the Neil Simon comedy, The Apartment. It featured the music of Burt Bacharach and the lyrics by the late Hal David. At the 1969 Tony Awards, Orbach's name was called out for Best Actor in a Musical. Here is Jerry singing "She Likes Basketball" from
Promises, Promises
.
The world lost a great talent when Jerry Orbach passed away on December 28, 2004. But he left a wonderful legacy and will surely be remembered for decades to come. And you can purchase Jerry's 1962 album,
Off-Broadway
, on
iTunes
or
Amazon
.