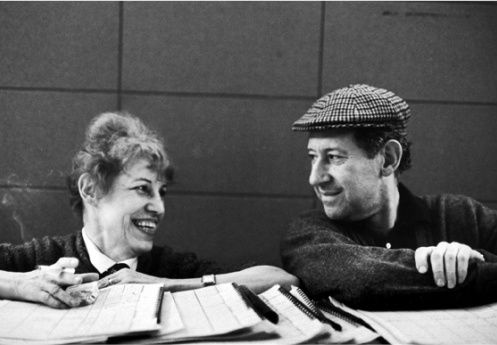 Photo: Don Hunstein / Sony Music Archives
My back is acting up a bit, so I am going this weekend the posts were a bit slow, and I am still a bit out of sorts. So I am going to repost a little something first up two years ago, because I love the song and performers, and the sentiment of the post.
Sometimes I can be blown away when a song that is over 40 years old has such honesty it is still relevant today. Sometimes, it is so personal and real, the emotions touch the listener in just the same way, the message so timeless. Other times, the lyrics might touch you in a way not originally intended by the songwriters, but it happens. Take, for instance, a song from the John Kander and Fred Ebb music
Cabaret
.
Married
is a song sung by a mature couple discussing why they should get married in pre-War Germany, as the gentleman is of the Jewish faith, and the woman not. Interestingly enough, the song has music by John Kander, but the lyrics are by playwright Joe Masteroff, not Fred Ebb, Kander's usual writing partner. The song is rather simple, which is an important part of it's beauty.
Today, however, it hits quite a nerve with me as this country struggles with the idea of marriage equality. Some people don't seem to understand the the truth of the opening lyrics.
How the world can change
,
it can change like that-
due to one little word:
'married'.
See a palace rise
from a two room flat
,
due to one little word:
'Married'.
And the old despair
that was often there
,
suddenly ceases to be.
For you wake one day,
look around and say:
Somebody wonderful married me.
Here is a beautiful version by Lotte Lenya and Jack Gilford from the 1966 Broadway production. There is such joy and hope in Gilford's singing, while Lenya's is a bit more nuanced, a certain awareness creeps in. Perhaps it is because her first marriage to composer Kurt Weill ended during this period, many thinking it was becuase his needing to flee the country due to his own Jewish faith. They later remarried. The visuals are courtesy of the poster of the video.
There are many in this country who wish to deny a minority the joy of 'someone wonderful,' instead preferring to vote for a group of people to live in 'that old despair.' Sure, that might be a bit of an overstatement, but I can't help but think whenever I hear the argument against marriage equality that those making it, despite public opinion to the contrary, feel inherently better than others, and feel much more deserving of a public acknowledgment of their love and the legal rights that follow. When I hear it, I understand they are saying that I am, by definition, a second class citizen. That is where despair could come in. Instead, I'd prefer to fight the prejudice. Although I don't understand why the possibility of my finding love is so threatening to heterosexual love, because it shouldn't be. I've never tried to take anything from them, no matter how much they try to take from me.