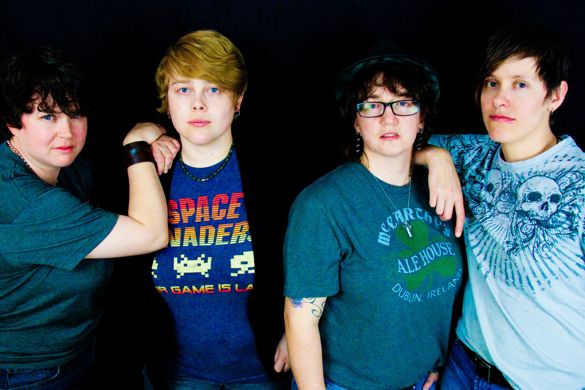 Award-winning band Perpetual Detour are always looking for ways to up the ante, and on the heels of their RightOutTV Music and Video Award for Best Video DIY for their imaginative music video for the song "What If It Was You", the title cut from their 2012 album. With an eye on releasing a new album later this year, the Canadian band is looking for a little help with their first music video. But before we get to that, I thought I would once again share with you their music video for "What If It Was You" by Perpetual Detour.
To get more of an idea about their music, I thought I would also make their first single off the debut album, "Find The Time". The song and music video both have a darker feel, but more moody than sinister. The song is the final cut on the 10-song album, 'What If It Was You'.
As you can tell from both music videos, the band doesn't really have the money to invest in music videos like Lady Gaga, Beyoncé, or other acts with label support. However, what you do see is a band that is investing a lot of themselves in the video, making it a much more personal affair. And for their upcoming music video, they are also asking if you would like to make a little investment with them on this next project. No, not in money, but just a bit of your time, telling a bit of your own story. Rather than have me be coy about it, why not let the band tell you all about it.
From Perpetual Detour:
We need your help!
We are seeking fan contributions for an LGBT equality-themed music video. The video will accompany our track "Little Earthquakes", which appears on our upcoming 2nd album 'Tired of the Scenery' in June 2014.
With the ongoing persecution occurring against LGBT individuals world-wide, the band wants to show the world that love looks the same, no matter who it is you love.
How to Participate
The band is seeking the following types of content:
1. Show your love: A short 10 second video that shows the world what love means to you as an
LGBT person. Examples:
a. Cuddling with your sweetie
b. Chilling at your favourite café
c. Dancing at the club
d. These clips should provide a visual snapshot of your relationship. Please keep it PG!
2. Send a message: A video of you holding a short written sign with a message about LGBT
equality. Examples:
a. A favourite quote about equality (properly attributed of course)
b. A short message you would like to share with the world
c. A brief sentence that describes some difficulties you've experienced because of being LGBT
d. A message of support (allies).
Keep it short – your message must be able to be read in 5-10 seconds.
All content should be sent to PDLittleEarthquakesVideo@gmail.com by March 24th, 2014. If your content is large, please use a service like WeTransfer. Be sure to provide the names of the people in the clip, your location, and your email address.

As a thank you, all participants will receive 3 digital tracks from Perpetual Detour's upcoming album, 'Tired of the Scenery'.

Help us spread the campaign on twitter using the hashtag, #LittleEarthquakes.
So there you have it. Perpetual Detour is asking LGBT people from all across the world to send short clips about love and support for their upcoming music video. It sounds quick, easy, and like a ton of fun. And as a bonus, you will be getting some new music! In case you were wondering, "What If It Was You" and "Find the Time" can be found on the album 'What If It Was You', which can be purchased from
iTunes
,
Amazon
, and from the
online store
. If you have any questions about the project, you can get in touch with Perpetual Detour at the
official website
. You can catch them on the social medias, like
Twitter
and
Facebook
.