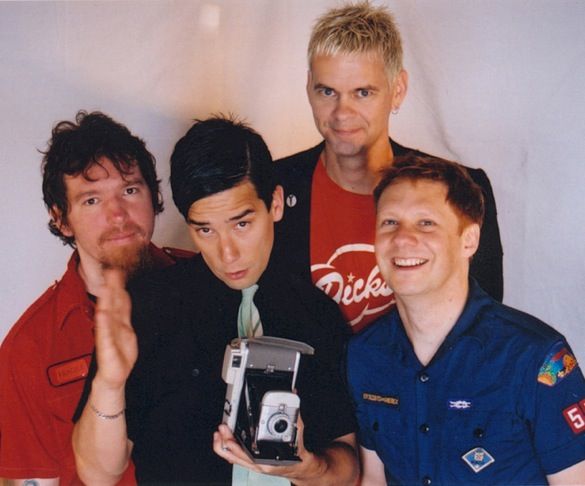 The Pansy Division.
It has been far too long since I have shared some music from one of my favorite bands, Pansy Division. Bold, brash, and full of bravado, the queercore rockers came together in 1991 when singer/guitarist Jon Ginoli and bassist Chris Freeman were joined by drummer Jay Puget to be the first all-gay Punk band in San Fransisco. In 1992, Patrick Hawley had replaced Puget. By 1993, they released their full-length debut album, 'Undressed', which they followed with their first national tour. With songs like "Bunnies", "Cocksucker Club", and "Rock and Roll Queer Bar", it was obvious this was not just another Punk band.
Once they finished touring, it was time to recorded and release their second album, 'Deflowered'. This time out, Liam Hart was on drums, joining Jon and Chris. The album garnered the attention of critics and other Punk bands, and soon Pansy Division found themselves on tour with Greed Day, who were promoting their album, 'Dookie', their first album on a major label. Previously, Green Day and Pansy Division shared their indie label, Lookout! Records. This gave Pansy Division a much higher profile, and greater exposure to the audience. While on tour, Billie Joe Armstrong was known to sing of the the songs off 'Deflowered', "Groovy Underwear". It is a great one, and I am happy to share it with you now. This is Pansy Division with "Groovy Underwear".
There were some amazing songs on the 15-song collection, all were sexy and fun, never shying away from the gay life and emotions. Another of my favorites off the album was the 8th track, "Rachbottomoff". Yes, the story of a classical music lover and the boy who loved him and wanted to be his first. This is the song that gives this album it's name, and it just makes me smile the moment it starts to play. This is the Pansy Division singing "Rachbottomoff".
The next song changed it up a bit, as they slowed down the tempo for "A Song of Remembrance of Old Boyfriends", a touching and sentimental song that offers the best to your first boyfriends, the boys who flirted, and those who were just to afraid to show you they were interested. I hope we are all in a position that we can wish the best for all those men in our lives, just like the Pansy Division do in "A Song of Remembrance of Old Boyfriends".
The final cut on the album is a cover song, and a perfect choice by the band. In 1981, Pete Shelley, former lead singer of punk band Buzzcocks, released an album and a single that was the title cut. "Homosapien" was a hit, despite being banned by the BBC for 'explicit gay reference to gay sex'. Despite, or perhaps because of that ban, the song became a club hit in Europe and North America. This gave Shelley the opportunity to talk about his own bisexuality. Fifteen years later, Pansy Division recorded the song, giving the song a guitar-driven sound. This is the Pansy Division with "Homosapien".
I love this album, and enjoyed revisiting it so I could share it with you. I must admit, I am prejudice, for I have all the Pansy Division album in my collection, and still cannon resist them. You can purchase 'Deflowered' from
iTunes
and
Bandcamp
. At this point, the band consists of founding members Jon Ginoli and Chris Freeman, as well as drummer Luis Illades and lead guitarist Joel Reader. To learn more about Pansy Division, you can visit the
official website
. You can 'like' them on
Facebook
, and 'follow' them on
Twitter
. Founding member Jon Ginoli also wrote a book about his time with the band, and it shares a title with this album, "Deflowered: My Life in Pansy Division". You can purchase the audiobook from
iTunes
.