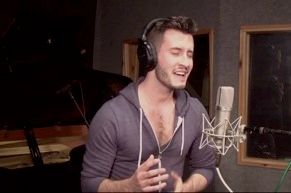 In a recent video release, as part of his 'Stripped Sessions', Mister Chase offered up his cover of the song "Two Beds and a Coffee Machine". The song was written by Darren Hayes and Daniel Jones, the duo that made up Savage Garden, on the 1999 release, 'Affirmation'. I just really like the song, for it is beautifully written. I guess that is a reason I am still such a fan of Darren Hayes today. But I am also a fan of Mister Chase, especially when he is picking music that speaks to him. And as he explains at the beginning of the video, this is a song that touches him, and speaks to what the tough time he recently went through. This is Mister Chase singing "Two Beds and a Coffee Machine".
If you enjoyed "Two Beds and a Coffee Machine", Mister Chase has kindly made it available for free. You can visit his
Soundcloud page
, and hit 'Download'. For more about Mister Chase, visit his
official website
. You can also 'like' him on
Facebook
, or 'follow' him on
Twitter
.