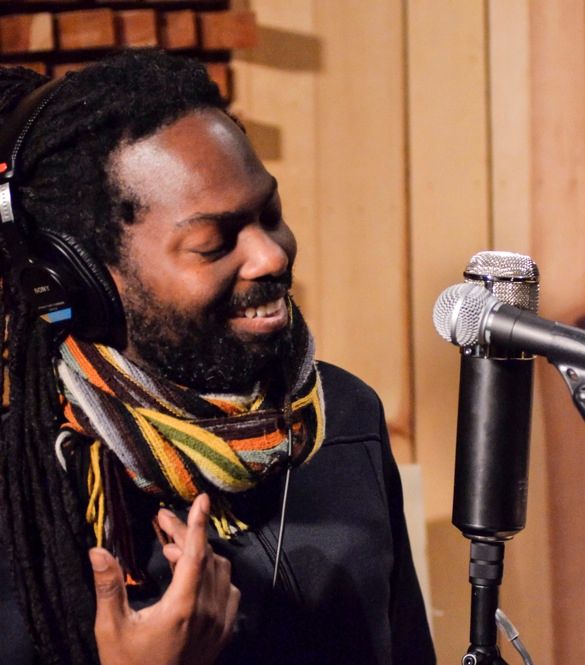 Since I first discovered the music off Nhojj, I have found myself repeatedly enchanted and seduced by his work. I am constantly amazed how he can be both sweet and sexy in a single breath, but he does. While he has his own sound and style, it never overpowers the material, but adds to it. He combines the genres of Folk, Pop, and Jazz with South American and Caribbean sounds to make it all his own. From his 2001 release 'I've Been Waiting So Long' to 'Made to Love Him: Celebrating Love' that is being released today, I find myself being hypnotized by his music, in only the best way.
The new album is a collection of well-known love songs from the last 90 years, with twelve songs coming from songwriters like Eden Ahbez, India.Arie, Billy Joel, George & Ira Gershwin, Stevie Wonder, and so any others. With a diverse group of songs and style coming together like this, it is not always easy to make it come together in some coherent fashion, yet somehow, Nhojj accomplishes that feat. The album beings with a jazz version of "Over the Rainbow", the iconic song with music by Harold Arlen and lyrics by E.Y. 'Yip' Harburg for the 1939 blockbuster, 'The Wizard of Oz'. There is a wonderful ease to Nhojj's vocals, as he takes us on this journey, giving a freshness to an old favorite. He follows that up with another iconic song from the Great American Songbook, "Nature Boy". The song, written by Eden Ahbez written in 1947 and first recorded by the great Nat King Cole, sings to life quickly, with Nhojj showing how nimble he can be as a singer. Next up, we have "He Heals Me", a song off the 2009 album 'Testimony Vol. 2: Love & Politics', by India.Arie. This is a beautiful song, so spiritual and sensual. Here is Nhojj singing "He Heals Me".
When "She's Got A Way" was written by Billy Joel for release on his 1971 album, 'Cold Spring Harbor', I am not sure he gave much thought that it might have a gender reassignment. I first heard it as "He's Got A Way" from Bernadette Peters int he 1990s, and now I've heard it from the gay perspective with Nhojj. there is a sweetness, a gentle nature that is so lovely, and so beautiful, it is hard to resist. When it comes to big name writers, it is hard to top the team that put Motown on the map in the 1960s, and kept them there for some time after. Holland-Dozier-Holland created many of the hits from the label, including "How Sweet It Is (To Be Loved By You)". The song was written in 1964 by Lamont Dozier and brothers Brian Holland and Eddie Holland, and given life by the great Marvin Gaye. Nhojj gives the song a light Reggae feel, adding a bit of tropical love to the equation. Could any collection of love songs exist without at least one song from the Gershwin Brothers? I don't think so, and neither does Nhojj. George and Ira Gershwin wrote the music and lyrics for the 1926 musical, 'Oh, Kay!', including the great song "Someone To Watch Over Me". While it might be the oldest song in this collection, it shows no signs of aging with the fresh treatment. With a lovely piano treatment, the richness of Nhojj's voice tells me all I need to know. He follows this up with a a reworking of his song off the 2001 album 'I've Been Waiting For You'. "Waiting For You" was written by Nhojj, and given new life with an ethereal take, making it an intoxicating listen. "So Amazing" was written by Luther Vandross in the early 1980s, and first recorded by Dionne Warwick for her 1983 release. Nhojj also gives it an R&B feel, only keeps it a bit lighter and more buoyant. Last night, I featured
Johnny Mathis singing the next song
, and I was so happy to hear it again. "Twelfth of Never" was written by Jerry Livingston and Paul Francis Webster, and first recorded by Mathis in 1957. There is something truly inspiring about this song, and Nhojj helps tell the story of longing and loving with a strong vocal, keeping it lighter, not with a more expected heavy hand. With the most recent song of the collection, Nhojj follows up that classic with a song from 2011, sung by one of the biggest names of the music business of the last decade. "Love on Top" was written by Beyoncé Knowles, Terius Nash, and Shea Taylor for Beyoncé's 2011 album, '4'. This is a delicious confection, as Nhojj allows love to drive the song with some urgency, but never fails to take a moment to appreciate some tasty moments. "I Was Made to Love Him" is up next. The song was written by Stevie Wonder, his mother Lula Mae Hardaway, Sylvia Moy and producer Henry Cosby in 1967. It made it to #2 on the Billboard Hot 100, and it is easy to hear why. It is sweet, hooky, and honest. This is Nhojj singing "I Was Made To Love Him" live at a Pride show in New York City last year.
For the final track of the album, Nhojj goes back to the great George and Ira Gershwin for a real gem. "Our Love is Here To Stay" has music by George and lyrics by Ira, and first appeared in 1938's 'The Goldwyn Follies', the first Technicolor film produced by Samuel Goldwyn. The song went on to be sung by just about every great name in the music business, from Gene Kelly to Frank Sinatra to Ella Fitzgerald and so many others. Nhojj tackles the song with a light touch, a delightful Jazz take with his voice and a guitar. Once again, I could just eat it with a spoon. I can't get enough of this album, I keep playing it time and time again. You can purchase 'Made to Love Him: Celebrating Love' from
iTunes
,
Amazon
and
Bandcamp
. For more about Nhojj, visit his
official website
. You can also 'follow' him on
Twitter
, and 'like' him on
Facebook
.