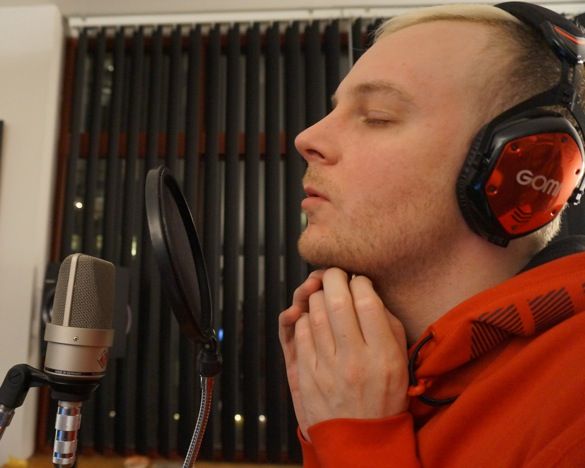 I remember several years ago when I first came across the music of Adam Joseph. I happened upon the music video for "Flow With My Soul" on YouTube, and just loved it. I had no option, I had to find out more. I went to iTunes and downloaded "How I Seem To Be", and devoured it with pleasure. It is an excellent album, and kept me on the look out for more from this talented young man. In 2007, I got the delicious "Faggoty Attention", and in 2009 there was the holiday treat, "Taking You Home (For Christmas)". Then, in 2011, he released a cover of "Finally" that was so sexy. And in 2012, he released "Turn Me Out", an driven dance track. But I was still waiting for that new album, watching reports of Adam playing shows in Europe, and contributing to the work of others, like Sir Ari Gold, Lem Springsteen, Alex Kassel, and several others.
But then I saw the announcement that Adam was back in the studio, working on a new album. It is called 'Love Philosophy', and it reminds me of the very reasons I fell in love with Adam and his music those years ago. 'How I Seem To Be' had a sexy and sultry feel, speaking from the heart and more. It started with the first track, "Get It". There is something so sweet and heartening to the song, but there is also the earthier side of the song, making me wanna "get it". With "Let Me", I feel his voice wash over me, at times a whisper, another time a rich call from deep inside. It truly showcases the versatility of Adam's voice. On "What's a Lover To Do?", the first single off the album, is a rich R&B song, and I can't get enough of it. I need to share it with you, so here is Adam Joseph singing "What's A Love to Do?"
As "Cigarettes" starts, I am taken aback by the softness of the song, despite the driving beat. That beat drives home the need, or maybe just some desire we try to keep at bay with other devices, like lighting up that cigarette. The next song, "Fantasy Dismissed", put me on notice right away, with a flirty feel bringing us back to love. And I can't believe I haven't heard this on my radio yet. Once the title track begins, there is a new feel, exotic and dreamy. Soon, a lyrical side of "Love Philosophy" come out, and I felt a whiff of smoke in the air, as a club started to come alive with the sound of featured artist Igmar Thomas and his trumpet taking over the song. There is something about "Vibe with You" that manages to both have a softness, as well as make me move my hips even as I listen now, sitting at my computer. Some imaginary soul is getting a great lap dance, if I do say so myself. From the first bars of "That's Life", here is a wonderful international feel, something interesting and new. This is Adam Joseph singing "That's Life".
There is a wonderful mix of influences I can hear for "Be My Lover", the final track of the album. the track features Carlos Alomar, a guitarist who had worked with many great names, including Ben E. King and David Bowie. When paired with Adam's voice, there is a wonderful soulfulness that is unmistakable, and so delicious I want to nibble on it. In fact, this entire album is a banquet, enticing my taste buds with sounds, textures and layers that make me hungry for more. And it is a meal I'd recommend for anyone who might be looking for that special meal. For more about Adam Joseph, visit him on his
official website
. You can also 'like' him on
Facebook
, and 'follow' him on
Twitter
. 'Love Philosophy' is available for purchase on
iTunes
, or on
Amazon
.