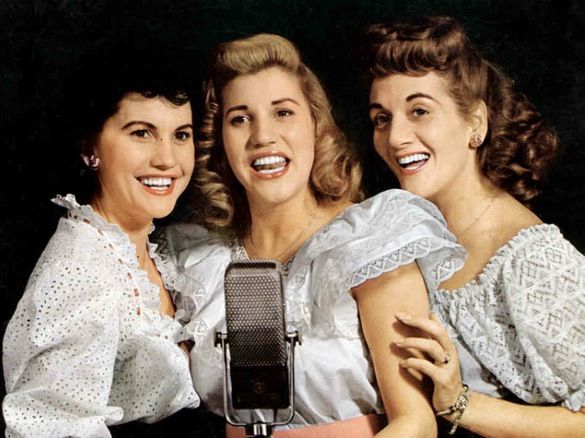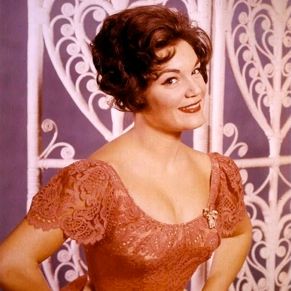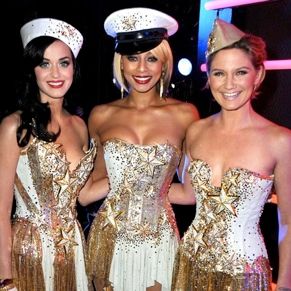 Clockwise from top: The Andrews Sisters; the Manhattan Transfer; Katy Perry, Keri Hilson, & Jennifer Nettles; Connie Francis; and Joss Stone.
A couple of years ago, I decided to dedicate most of the Saturday evening posts to some classic songs and performers, my own version of an exclusive Jazz club, singing some of my favorite songs. One of the early posts was a tribute to LaVerne, Patty, Maxene Andrews, better known as The Andrews Sisters. I thought the talented siblings would add some swing to the proceedings, and I think I was right on that. I have decided to revisit that post, but with an interesting new spin. I will pick four of the five songs posted in that first outing, and offer them up with performances by other artists. The first I will discuss is a fantastic song from the era, written fora 1932 Yiddish musical, 'I Would If I Could'. The song "Bei Mir Bistu Shein" had music by Sholom Secunda and lyrics by Jacob Jacobs, and grew some popularity over the next few years. But in 1937, Sammy Cahn heard the song being sung, and asked for the record label to purchase the rights to the song, so he, along with Saul Chaplin, could translate the lyrics to English. This only helped the song to grew even more in popularity, especially when the Andrews Sisters recorded it. For tonight, I found a delightful version recorded a few years ago for an album from Jools Holland. Please enjoy as Joss Stone sings "Bei Mir Bist Du Shoen".
Next up, I am looking at a 1941 release from the sisters. "Gimme Some Skin, My Friend" was written by Don Raye & Gene de Paul, and was a strong, upbeat dance song. I enjoyed the way the Andrews Sisters delivered it, with a great energy and tight harmonies. But I also love the way it was performed by the Manhattan Transfer, who kept the tempo, but added a smoother veneer to it, blurring the lines between Swing and Jazz. The Manhattan Transfer were so cool, bringing a Jazz club flavor to the performances, with some of the tightest harmonies you could imagine. This is the Manhattan Transfer singing "Gimme Some Skin, My Friend" on a 1975 television program.
"(I'll Be With You) In Apple Blossom Time" is a popular song written by Albert Von Tilzer and lyricist Neville Fleeson in 1920, but it was more than two decades later when it was a hit for the Andrews Sisters in 1941. Again, more than 20 years later it was recorded by another wonderful artist, the great Connie Francis. In 1963, Francis released the album 'Greatest American Waltzes', which included the beautiful song by Tilzer and Fleeson. This is Connie Francis with her recording of "(I'll Be With You) In Apple Blossom Time".
And I don't think I could speak about the Andrews Sisters without giving a nod to "Boogie Woogie Bugle Boy", written by Don Raye and Hughie Prince. The song became not only a signature song for the sisters, but also 'the' song of World War II. The song had lots of 'swing' action, and could draw folks out to the dance floor. In the 1970s, Bette Midler recorded a version that became a hit, with the tight harmonies of her Harlettes backing group paying homage to the Andrews Sisters. But I was also thrilled to find a version done in 2010 for the 'VH1 Divas Salute the Troops' television special, the vocals supplied by Keri Hilson, Katy Perry, and Jennifer Nettles. They were all in great voice when it was recorded, and they were fantastic. I hope you enjoy Keri, Katy and Jennifer as they sing "Boogie Woogie Bugle Boy".
Hope your weekend is going great!