On June 9, 1891, a baby boy was born in Peru, Indiana. The only child of a wealthy family, Cole Porter was expected to take a more traditional job, much like his father, a druggist, or his grandfather, J.O. Cole, for whom he was named. But Porter had started music lessons when he was quite young, at the insistence of his mother. Before long, Cole Porter knew he wanted to pursue a career in music, something that disappointed his father and grandfather. After completing high school, Porter left Peru, never to really return.
Porter went to a private school in Massachusetts, before going to Yale in 1909, where he had a very successful education. Not only did he major in English and minor in French, he also was a member of a fraternity, as well as being a contributor to 'The Yale Record'. Not surprising, he was also a member of the glee club, and became a member of the Whiffenpoofs, an a capella singing group quite well known. After graduating from Yale, he followed the direction of his grandfather, and enrolled in Harvard Law School. This did not last long, and soon he transferred to the School of Music, unbeknownst to his grandfather. It is said Dole had written over 300 songs while at Yale, and in 1915, he heard his first song on Broadway, as "Esmeralda" was featured in the revue 'Hands Up'. In 1917, Cole moved to Paris, France, and served in the French Foreign Legion. He also lived an excessive life, with big parties. Those parties included men that were known to be gay, bisexual, as well as some cross-dressers. It was also said there was plenty of alcohol and drugs available. Sounds like there were hot time in 'Gay Paree'!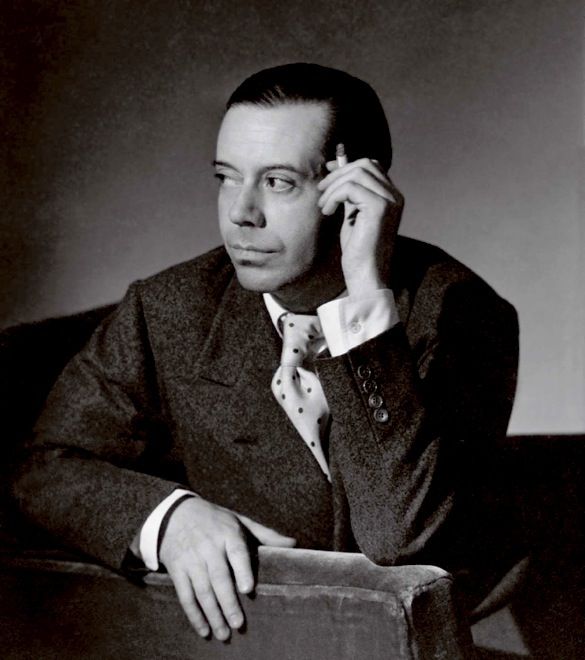 While in Paris, Cole met Linda Lee Thomas, a beautiful and well-connected divorcée. They were married in 1919, and remained good companions until her death in 1954. It was said she understood Porter's sexuality, but the marriage offered both a stability and friendship that worked for both. Soon his music was being heard in Europe, and in the states as well. And while he was having success with his music, it wasn't until 1928 that Cole Porter had his first bona fide Broadway hit, the musical 'Paris'. The score of 'Paris' included a song that soon became a big hit as well, with singers lining up to sing it. But I think it is always fun to go back to the source, so here is Cole Porter singing "Let's Do It, Let's Fall In Love".
While 'Paris' was playing on Broadway, Porter had another show playing in London. 'Wake Up and Dream' was a musical review that had many songs from Porter, including the most popular song in the show, "What Is This Thing Called Love?". The song quickly became a favorite of Jazz performers, all eager to record this great song, one that managed to be sweet and flirty at the same time. This is Cole Porter's recording of "What Is This Thing Called Love?".
Porter wrote the score for what was to be Fred Astaire's final Broadway show, the 1932 hit 'Gay Divorcée'. It was also the his first show without his sister, Adele, who had retired from show business. But, most importantly, the show featured the song "Night and Day", one of Porter's most popular songs. While it has been recorded by many, it was the first recording by Astaire that went to #1. Astaire also starred in the film version released in 1934, costarring with Ginger Rogers. While Astaire's version is well known, I bring you Cole Porter singing the great "Night and Day".
Cole Porter wrote countless hits over the span of his career. As a tribute to the talents of the man, so many artists recorded complete albums of his songs, like Ella Fitzgerald, Mabel Mercer, Julie London, Anita O'Day, and John Barrowman. And there was also the 1990 album 'Red Hot + Blue: A Tribute To Cole Porter', a compilation of Pop artists of the time who recorded songs to raise money for HIV/AIDS charities. And those are just the albums in my personal collection! Porter passed away in 1964, at the age of 73. During the final 6 years of his life, medical issues, including the amputation of his leg, prevented him from writing any more music. Porter is buried with family in Peru, IN.