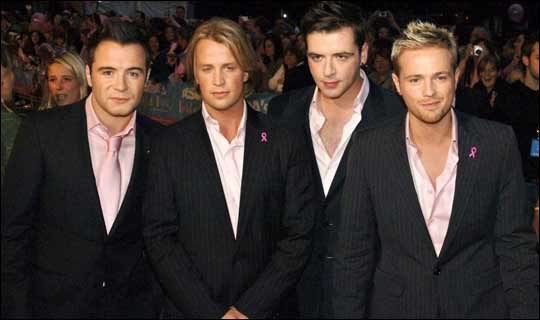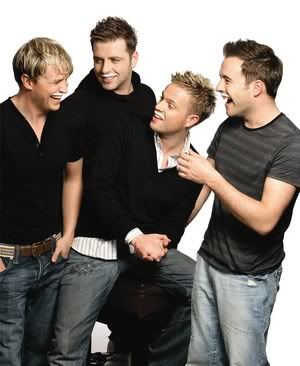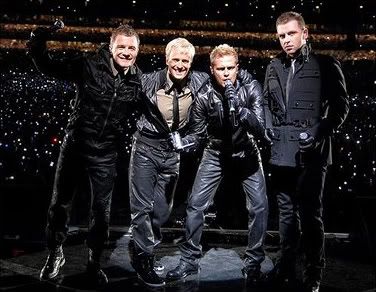 Top: Shane, Kian, Mark and Nicky.
You must excuse me if, over the course of the next few days, I am found weeping uncontrollably. Or slumped over in my chair, following each heavy sigh with another. But I just heard the news, following the December release of a greatest hits collection, and a subsequent tour, Westlife will be ending their collaboration. It seems Mark Feehily, Shane Filan, Kian Egan and Nicky Byrne have decided that 14 years together was enough for them. While it might be popular to make fun of the Irish boyband, I have never been anything but out of the closet in my love for them. So, in the thought of asking the question "How am I supposed to live without you," I offer the video for
When You're Looking Like That
.
That was a live performance, for I have to now believe that my dream of seeing the lads performing live is now dashed. For years I have wanted Westlife to come to the US, so I could hear them with my own ears, to see them with my own eyes. Alas, I sincerely doubt that the US will be included in their final tour, so I must let that dream go. But I can't help but think that I have wanted to see them since the first time I heard
Swear It Again
back in 2000. I have been a fan since.
Yes, I stood by them when Brian left, and cheered when my favorite, Mark, came out as a proud gay man. I bought the CDs, and I purchased the DVDs. And while I might have watched every live clip I could, I never got the chance to see them myself. Oh, how I would have loved to see them sing
World Of Our Own
.
I love it when Mark takes his part of the song and really owns it, like he did in the clip above. And most certainly he did it again in the final clip, with another of the trademark songs for the band. In this particular live performance, the lads were strapped in and flying above the audience in Dublin, Ireland. They sing a beautiful version of
Flying Without Wings
.
However, I suppose I should be grateful that another tour will mean tons more clips on YouTube, and possibly a new DVD. And many more years with the music they have made.