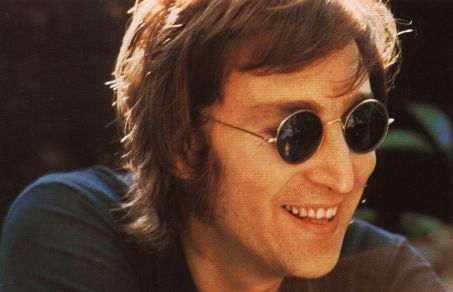 His collaborations with Paul McCartney, as well as his solo work following his stint with the Beatles, Lennon must rank up there with Bob Dylan as one of the most influential songwriters of the 20th century. He was born on this day in 1940, and laid to rest on December 8, 1980, the victim of a a senseless murder. While he started out in the public eye as a mop-head singer in a pop band, he grew to become one of the leaders of one of the most celebrated rock bands of all time, as well as to to create some beautiful and interesting solo work. He also became an activist, speaking out for peace and human rights; and a celebrated father, taking time away from the music business to help raise son Sean; and a dedicated husband to second wife Yoko Ono. He admitted he had much growing to do, as his relationship with his first wife, Cynthia, and son, Julian, were strained because he had issues he needed to work out.
A large part of his work was written with McCartney while they teamed up with George Harrison and Ringo Starr in the late 50s. By the time the British boys made it to the US, the teens were clamoring for their music, causing quite the sensation. It was songs like this that enabled them to top the charts. Here are John, Paul, George and Ringo with
Ticket To Ride
.
When he went solo, he sometimes worked with the Plastic Ono Band, as well as working by himself, delivering messages of peace, love, and understanding. A classic example of this and one of my favorite songs is
Give Peace A Chance
.
Perhaps one of his most famous and celebrated songs is
Imagine
. It is constructed brilliantly, and the lyrics touching and poignant. Here is John performing it.
Happy Birthday, John! Hope there is a big cake with plenty of candles.